6 Music's T-Shirt Day tooks place last week and, for the 12th year running, celebrated the humble band T-Shirt. 
But more than simply a memento from a gig, or a way of showing your musical colours, band T-Shirts can be of considerable importance – to both artist and fan.
After all, merch is a considerable part of a musician's income. The Licensing Industry Merchandisers' Association reported that the global music merchandise market (of which T-Shirts are a considerable part) was worth $3.1 billion in 2016, up 9.4% from the $2.83 billion generated in 2015. To put that in perspective, the gross revenue from live music concerts worldwide during 2016 was $4.88 billion; while the global market for recorded music that same year was worth $15.7 billion, according to IFPI. So, still a vital source of income for artists.
Of all music merchandise, band T-Shirts continue to be the items that spark fans' interest the most. Christiaan Munro, director of merchandise company Sandbag, who work with acts like Radiohead and Arcade Fire, tells us: "The T-Shirt is always the biggest seller – for every artist."
What makes a great band T-Shirt?
We all have our favourites, but a good band T-Shirt is eye-catching and instantly memorable, and some designs have become so well known that they've implanted themselves into popular culture. Rolling Stones' 'Tongue and Lip' logo, for example, has become so iconic by this point that they don't even need to print the band's name alongside it on their T-Shirts. The design first appeared on the back sleeve of the group's 1971 album 'Sticky Fingers' and has since become even more well-known than the record's front cover.
The very best T-Shirts work in lockstep with album artwork, such as Sonic Youth's 'Goo' T-Shirt, directly promoting an artist release. And, as album artwork gets shrunk to a thumbnail on a mobile phone screen, T-Shirts are arguably even more important today in doing the heavy lifting visually for an act.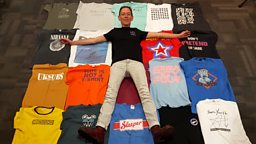 A unique band logo is beneficial too and, in particular, rock and metal artists do this really well, with acts like AC/DC and Iron Maiden perfecting this early in their careers. These genres have long utilised band T-Shirts as a way of cultivating an aesthetic for their scene. This is why, says Mark Meharry, the CEO of artist-branded marketplace Music Glue, that "the world of rock tends to sell more merchandise" than other genres.
In hip hop meanwhile, Run‐D.M.C understood the power of the name as a brand and applied that to their merchandise, as did Wu-Tang Clan with their signature "W". These days, rap groups like Odd Future and Brockhampton have continued this legacy and made merchandise almost as important a part of their identity as their music itself. Tersha Willis, co-founder of Terrible Merch, says that her company has noticed a significant genre shift in recent years, saying that hip hop and grime acts are "starting to sell a lot more T-Shirts now".
How much money do artists make from them?
T-Shirts are now such a big part of how acts make money as revenue from physical sales experiences a decline. But revenue and profits are not the same thing, so how much of the money you paid for a T-Shirt actually makes it back to the artist you're supporting?
Willis says many of the acts they work with would expect to pay around £5 per unit for printing and production for a T-Shirt based on a run of 50-250 garments. A bulk order could see the per-unit cost drop to £2.50 but that would be based on 1,000+ items, something only the largest of acts could comfortably sell out of and not be left with mountains of unsold stock.

Source: Terrible Merch
However, there are many hidden costs that the consumer does not see. In the UK, VAT swallows up 20% of the sale price. Then at the venue, acts can be charged either a flat fee or a percentage of turnover for that night for simply having a merchandise stand at the venue. "This is the thing that really needs to be said – the people who earn the most out of the products, apart from the tax man, are these concession companies," says Sandbag director Munro.
For hosting and staffing the merchandise stand, many venues with a capacity of around 10,000 and upwards take anywhere between 20% and 30% of gross – even as much as 40% in some cases. For acts on the road, Munro estimates that – after the venue cut and taxes are accounted for – they might have to work with 55% of the retail price. So, for a T-Shirt that cost £5 to make and sold for £20, the margin after deductions would be £6 – of which the act's managers would typically take 20%, so that's really more in the region of £4.80.
For venues around the 1,000-capacity level, acts may be charged a fee of £60-80 for a table at the back of the venue regardless of how much merchandise they sell. Grassroots venues though, specifically those with a maximum capacity of 300, normally charge nothing for merchandise tables. So this can often allow smaller, DIY acts to take home more of your £20.
How does this compare to streams and CD sales?
How does this compare to other forms of income for artists? The number of streams needed to generate the same revenue as a T-Shirt sale varies between different services (Spotify: 6,549 streams, Apple Music: 2,554 streams, YouTube video: 27,027 plays, according to Digital Music News in 2017), but trying to figure out how much profit of a stream or CD sale makes it back to the artist is often a "how long is a piece of string?" argument; and there are so many factors – royalty rates and manufacturing costs among them.
But based on figures published by Digital Music News, a Spotify play a few years ago, before the streaming service changed how it calculated royalties, could generate $0.007 (£0.0055) per stream. Out of that, however, a mechanical royalty in the UK would be payable to the publisher and songwriters (up to 20%, according to the Music Managers Forum) and the remainder is split between the record label and the act depending on the terms of their contract (so that could be anything from a single-figure royalty percentage for a new act to 20%+ for a major act who had deftly renegotiated their contract). Of course, an act will only start to see royalties paid through when they are fully recouped and only a small percentage of signed acts find themselves in this position.
Meanwhile, some acts who handle all their royalties themselves can often take home a lot more from streaming. Car Seat Headrest, for example, revealed last year that he had made almost $30,000 from streams of his self-released albums since 2013.
For a CD sale, an act could again earn anything from a single-figure royalty percentage to 20% – but this is after the retailer's cut, VAT, mechanical royalties and manufacturing costs are deducted. If an act, however, controls their own publishing and acts as their own label, recording at home for next to nothing and selling £10 CDs at the back of their gigs, after manufacturing costs are taken out (which can be as little as £320 + VAT for 500 units in a card wallet), they could be looking at 90% margin after they have covered the cost of the pressing run. It is important to note, however, that these are only guide figures and every act will be operating under very different circumstances.
Who owns the rights? And is bootlegging still a problem?
The rights holders also have to be considered when it comes to T-Shirt designs. In terms of ownership of the artwork that features on band tees, the act or label would often own it outright. New acts will frequently design their T-Shirts themselves or have an artistic friend help out. If they want something more professional, they can commission a designer who may take a percentage on a licensed basis or, more typically, work on a buy-out fee.
Meanwhile, the copyright for an iconic design like that of Joy Division's famed Unknown Pleasures remains a grey area due to the fact that it depicts a scientific image (radio waves from pulsar CP 1919), perhaps explaining why there's been so many parodies of the shirt since. (In 2012, Disney started selling a Mickey Mouse-themed reworking of the classic T-Shirt, before quickly taking the item off sale following complaints.)
The bootlegging of T-Shirts has become an increasingly serious concern, too. It is no longer just the people on the pavement after a gig hawking knock-off T-Shirts; instead a lot of the process has migrated online, and it is up to those owning the copyright to monitor infringements and issue takedowns.
Munro is a founder and director of TRAP (Trademark & Rightsholders Against Piracy) and reveals that the organisation has issued "more than a million takedowns in the two years that we have been operational."
How much are fans willing to pay for a T-Shirt?
At a gig these days, a band T-Shirt might cost you between £15 or £20. To put this cost in context, that's 0.43 of an average concert ticket, roughly the same price as a vinyl record, the equivalent of 7.7 coffee shop lattes or 0.22 of a smart speaker.

Sources: National Arenas Association, Starbucks
Some fans are willing to fork out a whole lot more, however. In 2016, David Bowie teamed up with British fashion designer Paul Smith for a special pair of T-Shirts marking the release of his Blackstar album. The limited-edition tees were from the designer's web-store for £65. Meanwhile, artists like Kanye West and Justin Bieber have been known to sell T-Shirts for up to $200, often sold at one-off boutique pop-up shops that attract lengthy queues and waiting times.
Certain rare pieces, though, have even been known to be sold for thousands – although that money goes straight to the collector, or a lucky fan who kept hold of the item, rather than the artists themselves. A T-Shirt originally on sale at Led Zeppelin's famous 1979 Knebworth show sold for $10,000 in 2011. A limited-edition Run-D.M.C/Adidas T-Shirt from the 1980s, meanwhile, has been listed on the Defunkd website for a hefty $13,000.
One of the most expensive vintage items to sell in recent years was a Nirvana 1993 tour T-Shirt that sold for just under $7,000. What was its unique selling point? Well, it was reportedly worn at the time by Kurt Cobain's bodyguard. And while not technically a band T-Shirt, a custom-made shirt featuring stencilled slogans and worn by The Clash's Joe Strummer recently sold at auction for a huge £22,500. The shirt had been gifted to Clash fanzine editor Mark Jay in 1977 and remained part of the fan's collection since.
But why the high demand and mark-up for these items? Perhaps it's a mix of nostalgia, the rareness of such items and a current trend for vintage tees. "Nobody really kept them at the time, there just wasn't the memorabilia market that there is now," Howard Cohen, owner of The Beatles Store in London, told The Guardian. "I had a lot of the old Sex Pistols T-Shirts. I had about six of them and I've seen them go for £500 each."
"If people wore the T-Shirt back in the day, they want to get it back. Celebrities are getting into the mix, like Justin Bieber wearing Nirvana shirts. Then there's just straight-up collectors. They won't even wear it, they'll just stash it away."
The tour tee and merch bundle boom
Due to a booming market for vintage T-Shirts, it's easy to presume fans only want reprints of classic designs, but appetite goes far beyond this. Meharry says: "You might think with a band like Iron Maiden it would be the classic album T-Shirts from the 1980s; but it is the new design for the tour that really races out the door."
Beyoncé's On the Run Tour II merch was released before the stint had even begun (in part, so you could buy ahead and wear the items at the concerts). Obviously anything with tour dates printed might seem to have a finite shelf life, but such items also work as a memento, a sign that you were there and a much better souvenir than a simple ticket stub.
As well as T-Shirts becoming a major part of the live set-up, their sales have also become entwined with an artist's musical releases too. The bulk of the charts is now made up of streams, which take a number of weeks to properly accumulate in aggregate and make their presence felt. In order to drive the critical opening-week sales that can propel an act into the top 40, record companies increasingly rely on bundling, essentially packaging together an album with something else (invariably a T-Shirt or gig ticket) through D2C (direct-to-consumer) stores.
A limited-edition T-Shirt can have a real impact on physical album sales, however the concept is not without controversy. The merch bundle phenomenon made headlines this summer after Nicki Minaj claimed that the technique was responsible for Travis Scott's record 'Astroworld' reaching the US number one spot ahead of her album Queen. "Travis sold 200K in his first week of clothes alone," Minaj tweeted in August, calling on the Billboard charts to change their rules regarding how ticket and merch bundles equate to album sales.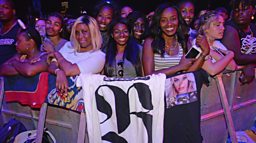 How the T-Shirt industry is changing
Changes are being in the merchandising industry, some of which could initially see profit margins taking a hit, but will eventually result in a more ethical market.
We've made products using recycled material… we couldn't sell them quick enough

Christiaan Munro, Sandbag
For example, sustainable merchandise is on the up. In an age of fast fashion and concern about the impact of mass production on both factory workers and the environment, there is a growing need to ensure products are ethically sound. "You can get T-Shirts that are as cheap as chips," says Munro, going on to stress the importance of NGO-led inspections of supplier factories.
Parallel to this is a concern about over-producing. For major acts, overestimating demand can lead to cotton landfill, but for smaller acts it can mean racking up unsustainable losses. Technology is coming into its own here, with sales data being used to anticipate demand for a tour and printing-on-demand means acts can order extra shirts while touring and have them delivered to the venue within a matter of days.
Willis says Terrible Merch is about to launch an app for touring acts that removes as much of the pain here as possible. "It is a full app for bands who go on the road. We will be able to know exactly where they are, what they will need, what their inventory is on the road, what we have in stock with us and what we need to get made for shows that are coming up."
If an act is left with excess stock, however, it can still have a new life. "We have done a chunk of products using recycled material," says Munro. "For Jack Johnson we did a surfboard cover, cushion covers and blankets. For Radiohead's crying minotaur [on the cover of Amnesiac] we turned that into a soft toy using excess T-Shirt stock. We couldn't sell them quick enough!"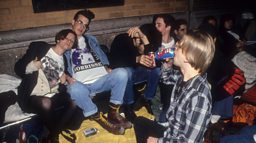 More than just a T-Shirt…
Finally, not just simply a way for musicians to make money, T-Shirts are important in many other ways too.
I met a girl in a Morrissey T-Shirt… we're now happily married with a son (whose middle name is Morrissey)

Richard, 6 Music listener
They can represent and define a band's image. "You have an aesthetic around what you do and what you stand for," says Darren Hemmings, founder and MD of strategic digital marketing consultancy Motive Unknown, who work with Run The Jewels and alt-J, among others. "There has always been a visual to define, accompany and enhance what they do. Expanding that into the realms of merchandise is a logical step."
T-Shirts also work well as a way of connecting artist and fan. They become visual shorthand and send out a message that the act whose name is emblazoned on their chest is definitely worth checking out. In an age of saturated social media activity, a T-Shirt spotted in the real world can, through great design, stand out and put musicians in the eyeline of people who might otherwise be unaware of them.
Seeing someone wearing the T-Shirt of a band you've never heard of can be a great tool of musical discovery too, as 6 Music listener Harry remembers how he saw someone at his school wearing a Shamen T-Shirt, so he decided to give them a listen. "I became obsessed with their early stuff so heavily that the lad gave me the shirt literally off his back," he says.
They can bring people together too, as Richard, another 6 Music listener, tells us: "Back in 1991 I'd just moved to a new city to start university. I didn't know a soul, but one of the easiest ways of working out who was potentially a like-minded soul to hang around with was to look at their band T-Shirts and go from there. One day, I met a girl in a Morrissey T-Shirt and it turned out she'd been to see him just the night before. We hit it off instantly. 27 years later, we are happily married with a son (whose middle name is Morrissey)."
****
Explore the latest t-shirt and other music clothing and merchandise here at eil.com
eil.com – the world's best online store for rare, collectable & out of print Vinyl Records, CDs & Music memorabilia since 1987