From the Vault: A Chat With eil, A Top Rare Record Dealer In The UK
I recently got the chance to talk with Robert Croydon, one of the founders of eil.com (Esprit International Limited), a well known UK-based purveyor of rare records, memorabilia and older vinyl pressings that, while not necessarily "rare," are often hard to come by in pristine condition. I thought readers might appreciate the insights of a long-established dealer: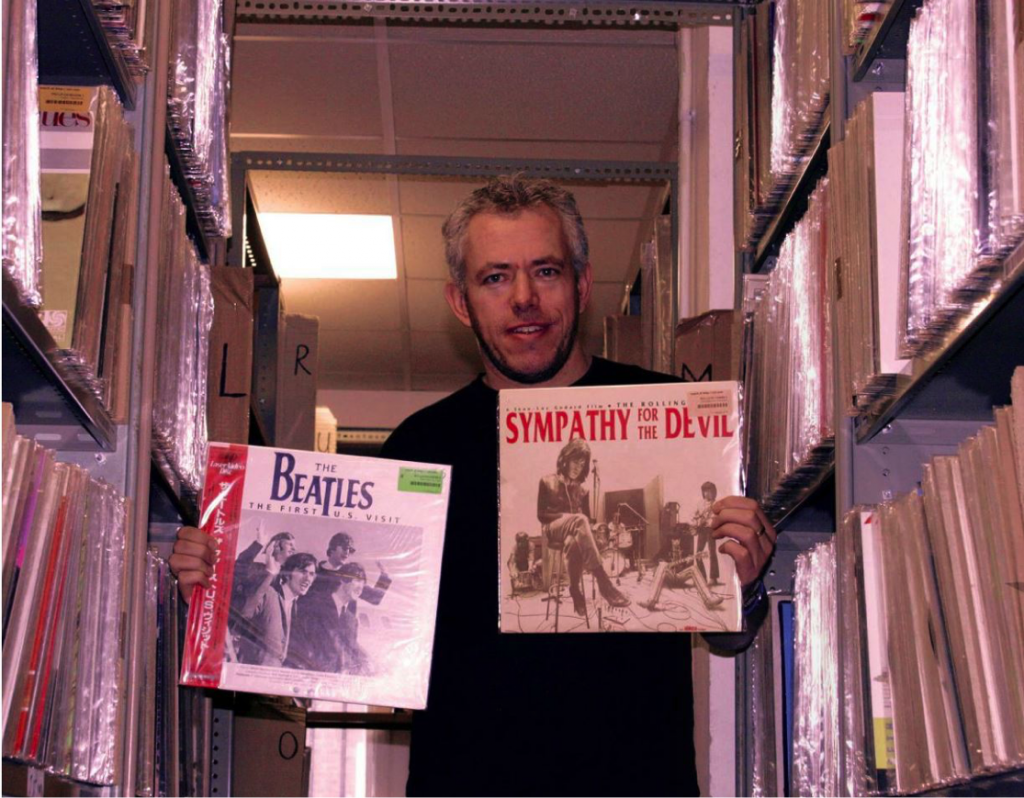 Q: You've been in business since 1987- that seems to coincide with the death of vinyl as a mainstream audio medium. Can you tell us a little about how the business started? And what was the core inventory at the outset?
I don't think vinyl started to really die for the collector until the 1990s, and we really started to see the resurgence in the mid 2000s which is still going strong. I believe that MP3 replaced the CD but made vinyl more desirable as it was further removed. CDs and MP3 can be used the same way- vinyl and MP3 are very different.
Collecting rare 12″in the late 80's was a hobby that quickly became an obsession. The catalyst for the business was actually the 16 minute 12" mix of Frankie Goes to Hollywood Relax. We didn't know at first that there were 3 different versions with the same catalogue number, sleeve and label with only the matrix number defining which (re)-mix it was. We purchased one from a dealer for £20, and then after finding another one for £5 realized there was a profit to be made in selling it
So we set up in business in 1986, from our respective bedrooms.   Within 5 years we were the biggest and best in the world at what we do and have remained there ever since.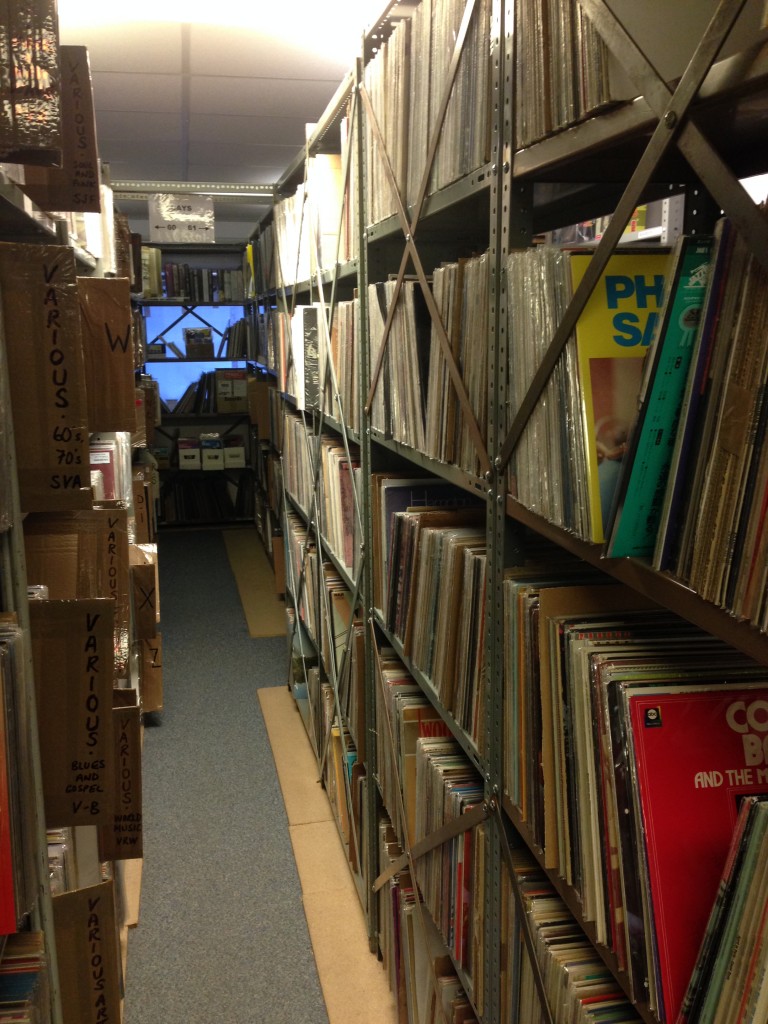 We went without holidays for six years and ploughed all the money we made from our jobs – me from working on the London Stock Exchange and Julian Thomas (my co-director and someone I consider to be among the best rare record buyers in the world!) as a commercial estate agent – into the company.
We spent years trudging around record fairs and second-hand shops all over the globe building up our stock.
We took on staff gradually. We currently employ more than 25 people in two huge warehouses in Meopham, Kent, England and we have an agent in Japan, hunting down rarities and selling to a growing clientele of private collectors.
We now have over 250,000 records, CDs and pieces of music memorabilia in stock and we celebrate our 30th anniversary next year!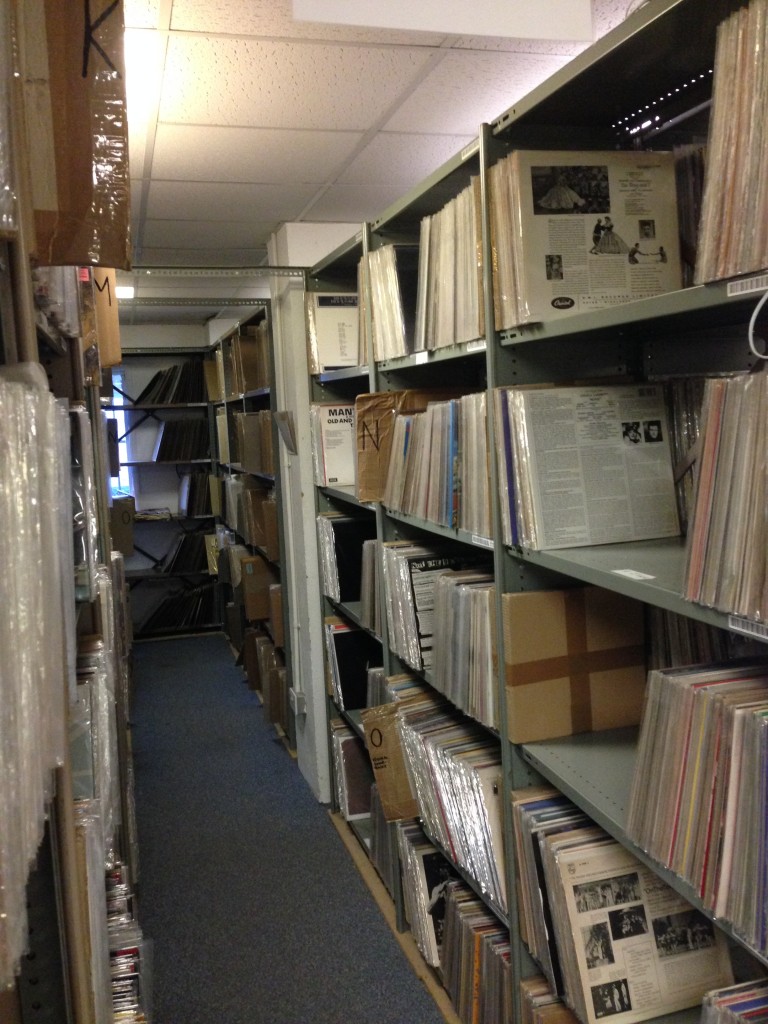 For all of us the fun side of business has always been the buying; whether £10 or £10,000 the thrill of discovery is much the same. The sheer joy of finding something you've never seen before, in immaculate condition, is very addictive and it's a feeling shared by all our professional buyers at EIL.
Q: Having bought various UK pressings from your company over the years, both collectible and more common, your records always seem pristine. How do you manage that?
Quite simply we only sell great quality records. Anything that doesn't make the grade doesn't get added to our inventory.
Q: My experience in buying records is that grading varies- I've purchased records, pretty much from all over the world- some very conservatively rated at VG+ that were pristine, and M- records that had 'problems'-
Do you have any insight into grading and evaluation that can shed light on this for buyers?
There's no easy answer to that! You have to get as much inital info from the potential seller as possible, talk to them and get a 'gut feeling' which comes from experience I suppose. Sound them out then get out there and view them. There's never going to be better advice than that. People's opinions will always differ on condition; you just have to be honest with yourself and others, regardless if you're the buyer or seller.
Q: You cannot possibly 'play-grade' everything you sell, but for expensive records, do you do that?
Tim Card (who works with buyers at EIL): – All records, regardless of price, are visually checked for any defects. More expensive items are play tested, sourcing only the very best quality records in the first place helps keeps rejections down to a minimum.
Q: What about cleaning? Can you tell us what methods/equipment you use? Do you clean every record? Every expensive one? Or only those, which you determine, need to be cleaned? (And how do you normally determine that, since in my experience, visual inspection, while valuable doesn't really tell you how a record will play).
We clean those that we determine need cleaning and we use two high-end audio cleaning machines. This can take several minutes each side.
Q: What are some of the most extraordinary finds you've made that you feel comfortable discussing publicly?
One of our biggest coups was when a punk fan rang up offering to sell a 'holy grail' item – a mint condition The Sex Pistols' God Save The Queen single, which was released on A&M Records in 1977 and then immediately withdrawn from sale. It's worth up to £10,000 with its original promotional material. We bought the single for an undisclosed amount. The seller then casually said: 'Oh, if you're interested, I've got six more copies.' Needless to say, we snapped them up!"
One of our favourite finds was an ABBA North American & European Tour 1979 photograph album featuring 109 photos, mostly taken by their drummer Ola Brunkert. Among the many candid snaps were pictures of the road crew and entourage, concert venues, the musicians, plus personal photographs of Agnetha, Frida, Bjorn and Benny. "It was a stunning visual documentary of life on tour with ABBA, and to cap it all had been fully autographed inside the front cover. It was one of those items that we still regret selling. If we could buy it back tomorrow we wouldn't hesitate. We have bought, seen and sold some of the rarest records in the world. "
I sometimes have to remind myself to pause a moment when we discover something extraordinary. I am surrounded by rarities and it's quite common for thousand pound records to be sitting on a buyer's desk while we research, grade & describe them. But that's only part of the attraction. Regardless of monetary worth there's the priceless value of enjoyment, personal to the customer who eventually finds what he or she has been searching for. It's great to play a part in fulfilling that desire.
Some of the top items we have stocked recently include the records in the links below:
Please Please Me Black & Gold – http://eil.com/shop/moreinfo.asp?catalogid=569998
Pink Floyd A Saurceful of Secrets – http://eil.com/shop/moreinfo.asp?catalogid=624138
Paul McCartney Dance Tonight – http://eil.com/shop/moreinfo.asp?catalogid=421611
T-Rex Rockin and Rollin – http://eil.com/shop/moreinfo.asp?catalogid=170836
U2 Best of Box Set – http://eil.com/shop/moreinfo.asp?catalogid=236020
EDITOR'S NOTE: I do not want to appear to be shilling for EIL, but, at the same time, I thought that readers might enjoy seeing the listings for these records. And for what it's worth, between the time EIL provided this material to me and the time it was ready to publish, at least one of the records in the above list was sold.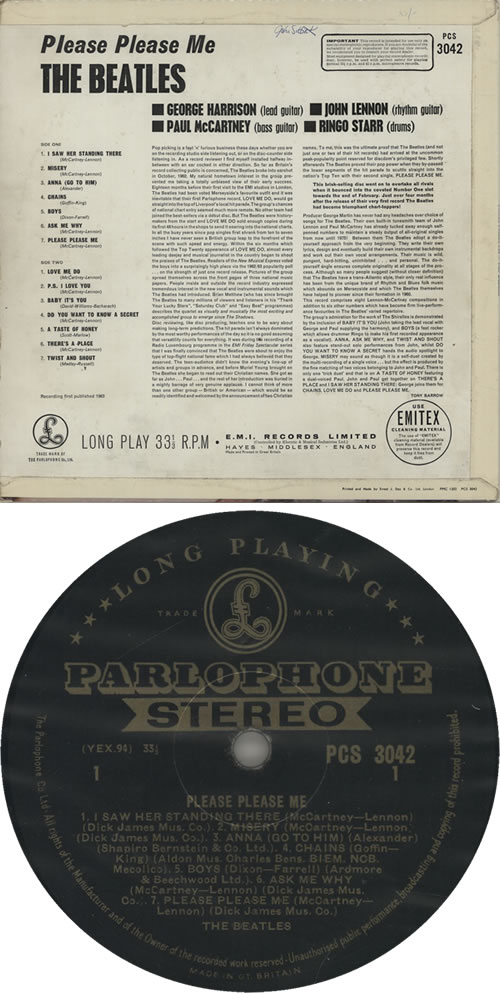 More can be found in EIL's Blue Chip Store where the best premium grade collectables reside: http://eil.com/shop/presetlist.asp?PageId=784
Q: I'm in it for the music and sonics, not collectibility per se, but I've found that some of the records I've been chasing in the last few years have sky-rocketed in value, e.g. UK Vertigo Swirls. Now, many of the best ones, e.g. Cressida, Patto's Hold Your Fire, Gracious! and Affinity are extremely expensive. Any way around that, e.g. by buying a non-UK pressing that is still an original issue? Does your staff offer such advice to buyers who may be looking for a cost effective way to obtain an important record?
We are aware that the prices some of these records/labels command may not be affordable to all, fortunately, many rare records have been reissued in recent years and we actively source these so we can offer an alternative – as you suggest, not everybody is concerned with owning an original, many just want to hear the music.
Q: When you buy collections, how deeply do you inspect the individual records, or is the price adjusted to a "wholesale value" to reflect that? (Perhaps you pick out the "top" or most valuable records for closer inspection in a large collection?)
Obviously the amount of items in the collection affects this but the general theme is to give more time to the higher value items, which is common sense really.
Q: Are there any particular records or labels that you see increasing in value over the next few years?
If only we had a crystal ball! One area that does appear to be growing is '90s vinyl'. The late '80s/early '90s was THE era of the CD and consequently anything released on vinyl during this period were pressed in very limited quantities, for example, Gorillaz, Oasis, etc.
Q: There are substantial differences in sound among the different pressings, even those made contemporaneously, in different countries. I typically attribute that to the source material, e.g. tape copy and different mastering. Are there any other factors, e.g. the particular vinyl used, or the mastering equipment itself varying from plant to plant?
1960's UK pressings are widely regarded as some of the best in the world. Japanese pressings have their following but not everyone believes they are better, even though it is acknowledged that they sound different. Audiophile pressings vary greatly. MoFi pressings are highly regarded and the same is with Classic Records/RTI. Other pressings that are marketed/branded as audiophile don't necessarily make the grade and this would be down to production costs.
Q: I would assume that the largest part of your business is older pressings, and not recent reissues. Do customers seek you out in some cases solely because of the sound differences in these pressings?
It is indeed BUT quality pressed heavyweight re-issues do have their place in any collection and I would venture that there are collectors who want certain 1st pressings just because they are the original issue rather than any subtle sonic differences.
Q: Have you seen counterfeits of some of the more collectible records in recent years, given their increasing value?
There are many records/labels of dubious origin which we avoid, not only for the moral aspect (the players/writers are not being paid) but also because they tend to offer poor sound quality and poor artwork reproduction. Fortunately most of the team here have previous music industry experience and are aware of the labels that operate in this area.
Q: You publish various guides on buying and collecting. Are those freely available on your blog or available as books for purchase?
We have some guides on our website but they are a little out of date – See http://eil.com/explore/rec_guide.asp
Q: What about storage? Climate?
Vinyl is stored in dry conditions, away from sunlight. Heavy duty shelving (vinyl is extremely heavy in large quantities) is required to prevent sagging and warping. Vinyl has to be racked according to weight/floor capacity.
Q: Are you familiar with what I would call the "PVC jacket or inner sleeve scare" that arose a few years ago when an article indicated that some records had suffered from plasticizer leaching from the PVC outer jackets or inner sleeves?
We are indeed and have seen some collections that have been affected by this -although thankfully not many!
Q: Do you personally collect or is it a little too much like a "busman's holiday," given your business?
I still love music and have a huge vinyl, CD and mp3 collection ranging from Simon and Garfunkel to current House Music and everything in between. In term of actual collecting if there is something I want, I get it. One of the perks of the job!
I saw Trevor Horn in concert a couple of weeks ago (Frankie Goes to Hollywood producer) so the apple hasn't fallen far from the tree!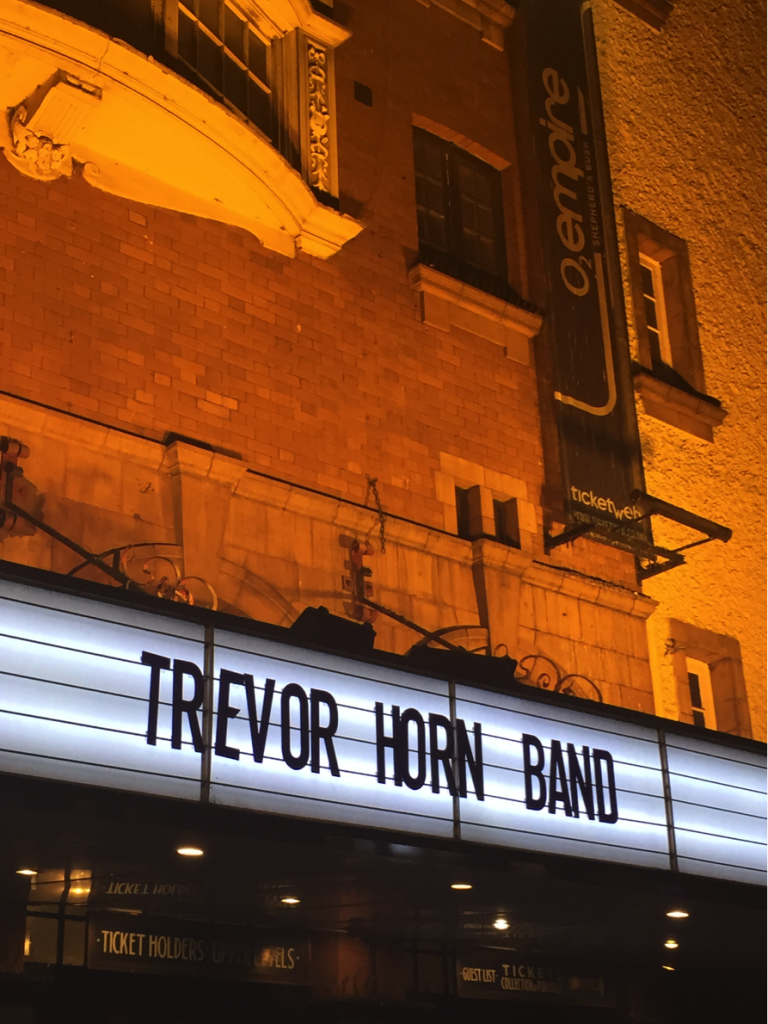 Q: Do you find buying quality collections harder or easier these days? (Leaving aside price, in terms of availability or condition).
Definitely harder as obviously the condition of records aren't going to improve over time and record dealers are often looking for similar items/collections, so there's greater competition.
Q: You are in contact with collectors, dealers and sellers all over the world. How often does EIL visit the States?
We visit the US at least twice a year and we courier collections in from all over the world all the time. If you want us to visit you, you can contact us at (UK+44) 01474-815 099 or email us at buyers@eil.com
Q: Is there any specific record or collection that is 'the fish that got away'? (i.e., that you tried to acquire but ultimately did not for some reason).
There's always another collection that will become available to help fill the gap.
Q: With the so-called 'vinyl revival' in the last few years, do you think those who are new to vinyl or returning to it are more inclined to buy a current reissue rather than chase down an older pressing? How do these buyers become educated as to differences in pressings?
Every collector is different. Some want just the originals, some just vinyl, some want to collect every track regardless of format, some just 12" mixes, some collect picture sleeves or picture discs, some collect just classic albums by any artists, some everything by a specific artist – the type of customers is endless. One order could be for an obscure prog rock album, the next for Kylie Minogue – people like different things and we try and accommodate them all.
Editor's Note: My experience, for what it is worth, is that the older pressings often, not always, sound better than a lot of the "standard" reissues and sometimes more "of a piece" than even the audiophile re-masters, but the big factors are obviously condition, price and availability.
Q: Does EIL ever do any public demonstrations of the sonics of different pressings?
No – It would devalue the item to the person buying it – And I'm not sure we have ever been asked!
Q:   I know that in London there are "Listening Sundays" which are public gatherings to listen to a particular older album. Have you participated in any of those types of events?
No – But we do participate in Record Store Day, which has been great for vinyl.
_______________________________________________________
Established since 1987, eil.com are considered the UK's leading buyer and seller of rare and out of print vinyl Records, LPs, 7" and 12" singles, CDs and Music Memorabilia. Their buyers travel worldwide for large and valuable collections and often pay considerable monies for mint condition rarities. The most sought after material, according to Robert, includes: The Beatles, Rolling Stones, Jimi Hendrix, Led Zeppelin, Pink Floyd, The Who, Queen, Madonna, David Bowie, Pet Shop Boys, Kylie, Oasis, and U2 but this hardly scratches the surface (not a great analogy when talking about records), given the wealth of material that has been released.
My thanks to Robert and his team for fielding my questions.
eil.com – the world's best online store for rare, collectable & out of print Vinyl Records, CDs & Music memorabilia since 1987