Found a piece of unknown [or known] Vinyl, a rare CD, a piece of Pop or Rock Memorabilia? Get in touch with eil.com today and let us give you a free purchase appraisal!
[from the
BBC
]
Keys, wallet, phone, glasses: all everyday items that have a habit of going missing in your house and then staying hidden for ages, until they eventually turn up in the last place you'd expect to find them.
But some lost things left gathering dust in your digs are just that little bit stranger. From centuries-old symphonies and stolen swag to old albums, leather trousers and rusty tour buses, here are eight of the best lost-and-found-in-the-house yarns in pop history.
Marvin Gaye's passport (in an album sleeve)
The Detroit native – who worked at the Motown museum – took the document to the US version of the Antiques Roadshow, where appraiser Laura Wooley valued it at roughly £12,300. "It's not a really common thing to see Marvin Gaye memorabilia," she said.
The passport was issued in 1964, the same year he released How Sweet It Is (To Be Loved By You), and used the altered spelling of his surname. "When he was signed as a solo artist with Motown, he decided to add that 'E', and there's a lot of different theories," explained Wooley. "People say it's because he wanted to separate himself from his father or because he actually liked Sam Cooke so much, who had an 'E' at the end of his name, that he wanted to imitate his idol."
David Bowie's first ever demo (in a bread basket)
Hadfield, who kept its existence secret until putting it up for auction in July of this year, said: "We had decided that we would do a couple of guitar instrumentals and one original song. I chose I Never Dreamed as it was the strongest, the other two were a bit weak! I also decided that David was the best person to sing it and give the right interpretation. So this became the very first recording of David Jones (Bowie) singing 55 years ago!"
Noel Gallagher's space rock album (in his sock drawer)
The singer claimed the finished record was so "underwhelming" he'd destroyed the master, and that was that – until he revealed last month a surviving copy had turned up in the oddest of places. "I did find a copy of it recently in a sock drawer," he said (via NME). "It might be nice to go back and revisit it in years to come… Best to give it a bit of distance, though, I think."
Paul McCartney's trousers (hanging up in Bridlington)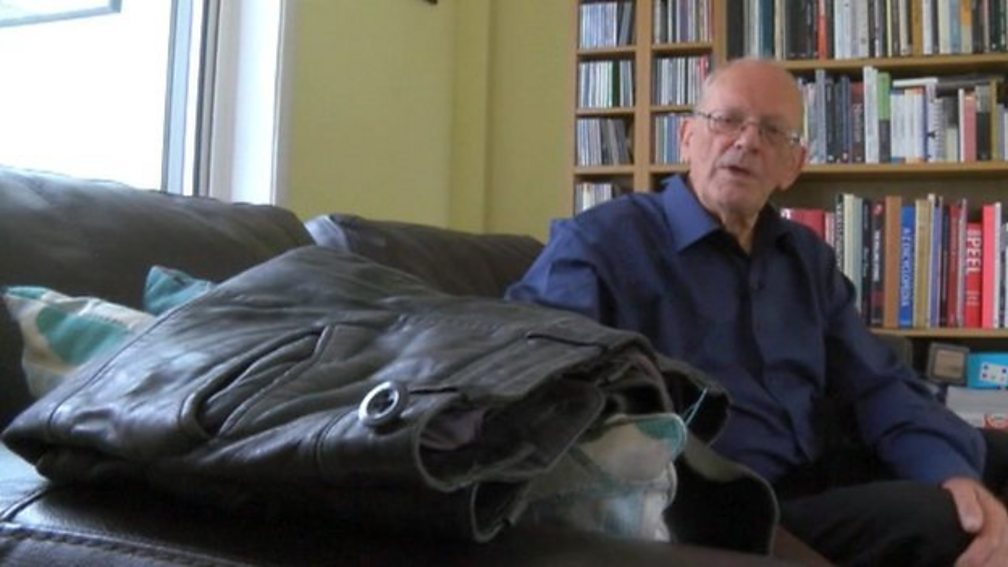 Mike Hoggard was packing up his house in Bridlington when he rediscovered an old pair of leather trousers he claimed he'd inherited 50 years earlier, from Paul McCartney. Hoggard told the BBC they were given to him in the 1960s by the Fab Four's manager, Brian Epstein. His group, the Yorkshire Jazz Band, had played at Liverpool's famous Cavern Club and were supported by the pre-fame Beatles.
"The trousers were in a bag hanging up," he said. "Epstein said to take them because he wanted to get them out of the leather and into these suits. So I took them and I wore them. At the time they weren't famous at all, so there was no sort of thought about, 'I've got something that's massively invaluable,' or anything like that – [I] just fancied a pair of leather trousers."
Hoggard planned on selling the trousers, which had 'Paul' written inside them; his son-in-law, Paul Bennett-Todd, said he was convinced they were the real deal after studying photos of Paul seemingly wearing them at the Cavern Club: "We can see creases that are indicative of the way that a person might wear those trousers – it's like a fingerprint, almost. They're exactly the right inside leg measurement and they're exactly the right waist measurement."
Bono's briefcase (in the attic of rented home in Portland)
Little did Bono know that the elusive briefcase had been found in the attic of a rental home by Cindy Harris, who said she had no idea it had ever been stolen, and didn't have the first clue of how to get it back to the band. In 2004, though, her friend (and U2 fan) Danielle Rheaume pledged to help and tried repeatedly to get in touch with the group's management team, until they eventually succeeded in returning the lost documents to Bono. He called it an "act of grace", although he didn't get the briefcase itself – Cindy's husband had been so taken with it he ended up keeping it for himself.
Clothes stolen from Patti Smith (in a Bob Dylan bag)
Unlike Cindy, Noreen Bender knew for years that she had a treasure trove of pop loot in her house. For nearly four decades, Bender kept various items which had been stolen from singer Patti Smith's tour van in 1979, including a top she wore on the cover of Rolling Stone in 1978 and a remembrance cloth that had belonged to her late brother and manager, Todd Smith.
"I knew I had to get it back to her. It's not for a stranger," Bender told the Chicago Tribune (via BBC). She said she'd been given them by the friend of an old roommate who worked for moving company U-Haul ("I just thought, 'Oh my god, these are her clothes and they still have her sweat on them'") and kept them hidden away in a Bob Dylan bag until 2015, when she returned them personally to Smith at a book reading.
A report from an online forum revealed: "Patti looked inside and just froze… [she] pulls out these items of clothing and talks about them (the shirt she wore on the Rolling Stone cover, the Keith Richards t-shirt you've seen her wear in a hundred photos) and then gets to the bottom of the bag. Here was a bandana that her beloved late brother had worn and then given to her, and she starts to weep. Before long, half the audience was crying with her."
Aerosmith's tour bus (on private land in Massachusetts)
American Pickers used their contacts to prove its authenticity. First, one of the show's presenters, Mike Wolfe, got in touch with his friend Dan Auerbach, frontman of The Black Keys. He sent photos of the van to Aerosmith's Joe Perry, who then called one of the band's other founding members, Ray Tabano, who went to investigate in person. "I'm afraid to say how long it is, but it's been like 40 years since we've been in this thing," he said. American Pickers forked out over $25,000 to take the van home.
Mozart's earliest symphony (in a cellar in Denmark)
The Odense Symphony then obtained it, along with various other manuscripts, from the town council when it cleared out the county hall's cellar in 1943. The librarian of the symphony, Gunnar Thygesen, said: "Initially I thought that the piece might have been written by another Mozart, possibly the great composer's father, but out research has shown that the way the music is written, its type and moods, make us certain that the piece is genuine."
Since then, scholars have questioned whether the piece is actually by Mozart, but no other author has ever been named.
eil.com – the world's best online store for rare, collectable and out of print Vinyl Records, CDs & Music memorabilia since 1987