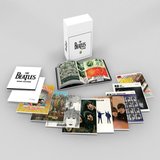 It was five years ago this month when The Beatles (The Original Studio Recordings) CD box set of all the bands stereo recordings was released in the midst of a major promotions push to a very zealous audience who could not wait to obtain the set (the first printings sold out extremely fast) and garnered a slew of new generation "Beatlemaniacs."
As the box set more than satisfied most, Beatle purists also got excited that Capitol/EMI had simultaneously released a mono box of the bands recordings (sans the "Yellow Submarine" soundtrack and subsequent stereo-only records after that). Considering that the Fab Four's American onslaught was fifty years ago this year, the mono box set returns to celebrate the anniversary – this time with a vinyl only collection, The Beatles in Mono (Vinyl Box Set). Once considered a dead art form after the CD technology (which now itself is archaic) went mainstream in the 80's, sales of vinyl have increased steadily over the last few years (and nowadays, anyone can get a standard no-frills turntable at your local Target store).
To say great care went into the set is a vast understatement. Not only are the 14 albums (totally analog – and the set includes a 108-page book. Also, the LPs are available to buy individually), better than any prior wax Beatle releases heard before, the packaging of each record jacket is identical to the way it was originally manufactured.
While all of the discs are as close to perfect as you can get, but "Rubber Soul" is a stand out. Hearing songs as "Girl, "Norwegian Wood" and, most impressive, George Harrison's "Think For Yourself" (especially Paul McCartney's classic fuzz bass on the track) on a virgin mono LP is striking. Also, the "Help!" album shines as never before as "I've Just Seen A Face," Ticket To Ride," not to mention the title track sound, sound exquisite. While "Rubber Soul" has been widely lauded by all, the "Help!" record was ample evidence that the bands songwriting was vastly flourishing, and miles ahead of their prior release, "Beatles For Sale."
You may ask who really cares about records in 2014? According to the "Wall Street Journal," a least 2,300 consumers have bought "The Beatles In Mono" since its shelf debut last week.
And Beatlemania supposedly died in the 60's?
Which reminds one of an incident: In 2009, this writer overheard a pessimistic music store patron asking an employee why The Beatles were such "a big deal." The employee just stared and said, "Yeah. You just wait for another band like that to come along."
Read the full review here: http://www.music-news.com/showreview.asp?H=The-Beatles&nReviewID=10529
Add this set to your collection. Find this and more rare and collectable Beatles vinyl, CDs & memorablia here at eil.com
#eil.com
#eildotcom