From Loudersound.
Canadian prog metal legends Voivod have announced they will release their latest album, Synchro Anarchy, through Century Media Records on February 11.
"We are eager to present our latest work, a real collaborative effort," says drummer Michel 'Away' Langevin. "The new album represents countless hours of writing, demoing, recording, mixing and so on. The band and Francis Perron at RadicArt Studio gave their very best to make it happen under unusual circumstances, which led us to call it Synchro Anarchy. We feel that the sound and music are 100% Voïvod, and we hope everyone will enjoy it as much as we had fun making it. We certainly can't wait to play it live!"
Synchro Anarchy, the band's 15th studio album, follows 2018's highly praised and Juno Award winning The Wake. It was again produced with Francis Perron at RadicArt Studio, features cover artwork once more created by Langevin which you can see, along with the tracklisting below.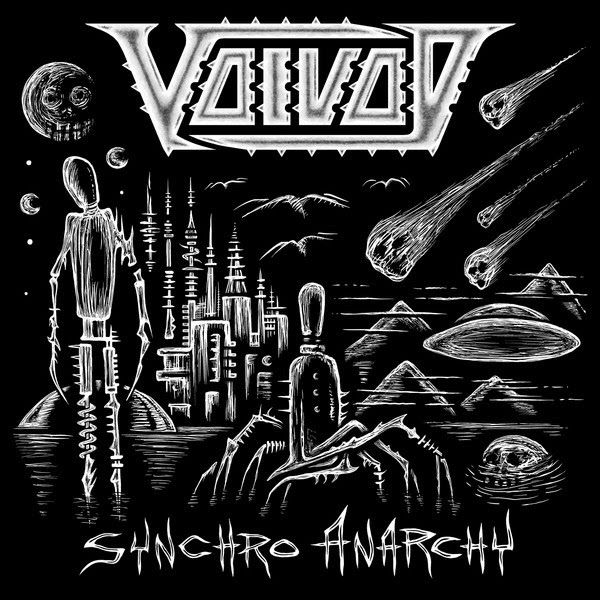 Voivod: Synchro Anarchy
1. Paranormalium
2. Synchro Anarchy
3. Planet Eaters
4. Mind Clock
5. Sleeves Off
6. Holographic Thinking
7. The World Today
8. Quest For Nothing
9. Memory Failure
Explore eil.com & 991.com sister – the world's best online store for rare, collectable & out of print Vinyl Records, CDs & Music memorabilia since 1987.
Need gift ideas? Roy and Luke are here to help!
WhatsApp us
or use eil.com website live Chat, call 01474 815 010 or email sales@eil.com 
Voivod - Too Scared To Scream - RSD18 - Open Shrink - UK - picture disc LP - £14.99, $18.89, €17.54 (New Item) (arrived 30-Jun-2023 16:04)

on December 8, 2023 at 6:47 pm

VOIVOD Too Scared To Scream - RSD18 - Open Shrink (2018 UK limited edition 12" Picture Disc single released exclusively for Record Store Day, a replica of the Canadian progressive quartet's 1987 single. Recorded during the sessions for their cult album 'Killing Technology', the two songs featured haven't been available on vinyl for 30 years. The disc displays artwork designed by long standing drummer & artist Michel 'Away' Langevin and comes issued in a Noise International company die-cut picture sleeve unsealed within its original shrinkwrap, despite being opened the record appears 'as new' NOISET050)

Voivod - Too Scared To Scream - RSD18 - Open Shrink - UK - picture disc LP - £14.99, $18.89, €17.54 (New Item) (arrived 30-Jun-2023 12:37)

on December 8, 2023 at 6:47 pm

VOIVOD Too Scared To Scream - RSD18 - Open Shrink (2018 UK limited edition 12" Picture Disc single released exclusively for Record Store Day, a replica of the Canadian progressive quartet's 1987 single. Recorded during the sessions for their cult album 'Killing Technology', the two songs featured haven't been available on vinyl for 30 years. The disc displays artwork designed by long standing drummer & artist Michel 'Away' Langevin and comes issued in a Noise International company die-cut picture sleeve unsealed within its original shrinkwrap, despite being opened the record appears 'as new' NOISET050)

Voivod - Forgotten In Space: Deluxe Edition - Sealed - German - vinyl box set - £149.99, $188.99, €175.49 (New Item) (arrived 25-Jan-2023 17:23)

on December 8, 2023 at 6:47 pm

VOIVOD Forgotten In Space (Fantastic 2022 German Deluxe Edition SIX-DISC VINYL LP Box Set comprising remastered versions of RRRÖÖÖAAARRR, Killing Technology and Dimension Hatröss plus No Speed Limit Weekend '86 and Dimension Hatröss [The Demos], both of which are on vinyl for the FIRST TIME. The Box Set also comes with a DVD containing a mini documentary of interviews live performances and promo videos from 1985-1989, plus the custom USB stick which contains all the tracks from the expanded studio albums and the live & demo albums. Complete with the 40-page book with rare & previously unreleased images and new sleevenotes, all contents sit inside the 12.5" x 12.5" x 2" two-piece picture box which remains factory sealed with its hype-sticker and contents insert!)