From Loudersound.
Renowned UK metal label Peaceville Records are marking the 30th anniversary of Paradise Lost's seminal second album, Gothic, by releasing a limited edition gold vinyl edition, as well as a limited edition multi-disc retrospective, The Lost And The Painless, that features the album itself as well as a host of recordings from the band's formative years.
The Lost And The Painless come in a large-size hardback book format featuring six CDs and one DVD, as well as a 92-page book detailing the band's early years, and with a foreword by Cradle Of Filth frontman Dani Filth. As well as the Gothic album itself, the CDs contain numerous demos, the 1990 debut album, Lost Paradise, the 1994 Gothic EP and recording from three lives shows from the band's early period. Yet more live shows are featured on the DVD. Lost Paradise, Gothic and the Gothic EP have all been specially remastered by in-demand producer Jaime Gomez Arellano, and a bundle edition is available featuring the Gothic album in cassette format.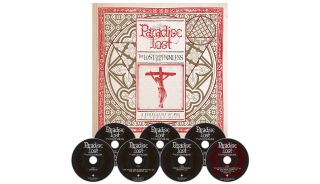 (Image credit: Peaceville Records)
Paradise Lost frontman Nick Holmes says: "Looking at the artwork for The Lost And The Painless and remembering those early albums and live shows, It's amazing to think that Gothic was released 30 years ago.
"It serves as a very important chapter in the life of the band and conjures a lot of nostalgia from the early 90s. We lived off crisps, slept in squats, on people's floors and under vehicles. Cigarettes were £1.50 a packet, Stella Artois beer was still 5.2% proof, and travelling in a Ford Transit van with all the equipment and 10 people sitting on an old mattress was considered normal.
"Distant memories aside, it was also a great time for death metal music in general, and The Lost And The Painless serves as a timely reminder."
Both The Lost And The Painless and the Gothic gold vinyl are available for pre-order now.
Explore eil.com & 991.com sister – the world's best online store for rare, collectable & out of print Vinyl Records, CDs & Music memorabilia since 1987.
Paradise Lost - Draconian Times - 25th Anniversary - Splatter Vinyl - UK - 2-LP vinyl set - £39.99, $48.79, €46.39 (New Item) (arrived 12-Jul-2022 14:36)

on December 7, 2022 at 9:17 am

PARADISE LOST Draconian Times (Limited Edition 2020 UK/EU 25th Anniversary Edition 12-track 2-LP set pressed on Heavyweight Clear with Red and Blue Splatter Vinyl, the groups fifth studio album and featuring the 2011 remaster. Housed in a gatefold picture sleeve with printed inner, which remains in its original, opened hype-stickered shrink)

Paradise Lost - World Tour 95/96 - XL - UK - t-shirt - £50.00, $61.00, €58.00 (New Item) (arrived 27-Apr-2022 16:45)

on December 7, 2022 at 9:17 am

PARADISE LOST World Tour 95/96 (Rare 1995 UK vintage black cotton, round neck short sleeved t-shirt, available during the tour to promote the album, Draconian Times. Featuring white scull image and band name printed on the front with '©1995 Under Licence To Niceman' under the image, the back is printed with a a circular design with 'Paradise Lost World Tour 95/96' text, also all printed in white. This t-shirt shows a few signs of being worn, however the front & back print is still present with just a few light cracks present as you would expect, otherwise really nice with only one very tiny hole on the front. A fantastic item and the first we have ever seen!)

Paradise Lost - Gothic - Japanese - CD album - Promo - £50.00, $61.00, €58.00 (New Item) (arrived 24-Feb-2022 10:36)

on December 7, 2022 at 9:17 am

PARADISE LOST Gothic (Original 1995 Japanese promotional sample 11-track CD for review ahead of release, including an exclusive bonus live version of 'Gothic' recorded in Germany in November '93, complete with an 8-page black & white booklet & promo stickered obi-strip PCCY-00799)