There's a received wisdom that when football and music collide terrible things happen, but some songs written with the World Cup in mind are more sophisticated than they're given credit for. With the greatest show on earth set to start on Thursday at the Luzhniki Stadium in Moscow, it seems like a good time to uncover the components that make up a well-constructed World Cup song.
1. A BPM of around 125 works best
Statistical analysis of all the England World Cup songs since 1966 (official and otherwise) reveals the optimum beats-per-minute ratio to be about 125. That's correspondent with the heart rate of someone taking a light jog. An allegro paced 120-130 BPM seems to hit a primordial sweet spot, with songs between these tempos the most streamed according to Spotify stats from 2016. An alacritous 180 BPM would more likely equate to Gareth Bale slicing through defenders like a Cossack attacking a pumpkin, while at the slower end of things, 70 BPM might depict a slow motion Loris Karius casually gifting the ball to Karim Benzema's grateful right shin.
World in Motion by New Order, which made No.1 in the charts in 1990 and which consensus dictates is the best World Cup song ever (at least if you're English), clocks in at 124 beats per minute. So too does the less-lauded World At Your Feet by Embrace which made No.3 and (How Does it Feel to Be) on Top of the World by the Spice Girls and Echo & The Bunnymen's Ian McCulloch, which peaked at No.9. The No.1 smash Back Home by the Mexico-bound 1970 England World Cup squad? That clocks in at a fractionally more pacey 126 bpm.
It's also worth noting that songs that are more carnivalesque, a word not readily associated with the English game, will often be faster. Dario G's Carnaval De Parisclocks in at a frenetic 135 bpm and is a proper banger.
2. Seemingly unintelligible language is the footballing lingua franca
Call-and-response vocals occur on nearly every football record you're ever likely to hear, whether it purports to make sense or not, with atavistic chanting getting to the heart of what it means to be a real football fan. Which is why you get an "oh eh, oh eh" call-and-response on Herbert Grönemeyer's 2006 tournament song Celebrate the Day (it was titled Zeit, Dass Sich Was Dreht in German), and the more difficult to decipher "tsamina mina zangalewa" on the 2010 South African tournament song Waka Waka (This Time for Africa) by Shakira (indecipherable unless you speak Zulu, that is).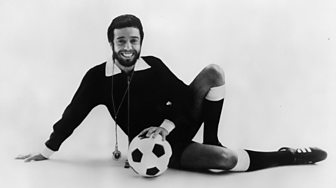 The rounded vowel sounds on Sérgio Mendes's Mas Que Nada, a Brazilian song from 1966 that has become synonymous with the Seleçãos, brings exoticism to football and eschews clarity. You might assume the "Oriá raiô" lyric will mean little to you unless you speak Portuguese, but being Portuguese or Brazilian may not help either. The songwriter Jorge Ben apparently intended the phrase as an incantation summoning the spirit of the goddess Obá. He certainly helped summon the gods Pele, Garrincha and Jairzinho.
3. Appropriation from the greats is a must…
Football has plenty of its own history and its own jargon, so it stands to reason that the songs it inspires will have their own leitmotifs. Football records steal from other football records, whether we're talking about the two decades or so of squad songs that all took their cue from 1970's Back Home, or more specifically a songwriter like B. A. Robertson borrowing the arpeggio played over a 6/8 time signature from You'll Never Walk Alone for Scotland's mighty 1982 World Cup anthem We Have a Dream. Adding identifiable footballing motifs is the same principle as putting sleigh bells at the beginning of a song like East 17's Stay Another Day, even if the words have nothing whatsoever to do with Christmas.
4. …but a break with tradition makes a record stand out
New Order didn't make the first FA-approved football dance crossover record; that was Stock Aitken Waterman's All the Way from England's Euro misadventure in 1988 (the record was no less a success). John Barnes rapping wasn't a first either; he'd contributed his inimitable flow to Anfield Rap, also from 1988. New Order's proverbial Cruyff Turn was to make the squad work for them rather than them work for the squad. Instead of inviting all of the players into the studio to quickly learn and then tunelessly sing in unison some cobbled together lyrics to the tune of He's Got the Whole World in His Hands, a core of six players (John Barnes, Paul Gascoigne, Peter Beardsley, Steve McMahon, Des Walker and Chris Waddle) were directed by a world class producer, Stephen Hague, and asked to double up vocals and work more succinctly, like proper backing singers. Their vocals often sit low in the mix, too, because they're not proper backing singers.
5. Modern World Cup records pay lip service to the host country
Artists should try to at least throw something related to the host country into the mix as a courtesy these days. The most French thing about the 1998 Dario G song Carnaval de Paris is the title. The track, written in time for the tournament, was recorded by a Cheshire-based trance trio with the main tune stolen from a Sheffield Wednesday chant picked up at FC Utrecht in pre-season 1996 based on the old American folk song Oh My Darling, Clementine. So far so gallic! Even the accordion, utilised to try to counterfeit bustling cafe scenes from across La manche, is played by Kieran Kiely, one of Shane MacGowan's musicians in his backing band The Popes.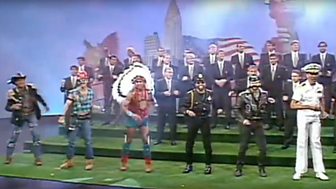 An internationalist attitude wasn't always prevalent: while the England Squad had their thoughts on what was going on Back Home in 1970, the German national side with the help of the Village People were Far Away In America in 1994 with probably the most progressive World Cup song in history.
6. Sample, sample and sample some more
A World Cup is a carnival of football so you'd better look like you're enjoying yourself. A way to create a party with a happy atmosphere is to steal from other sources; crowd noise or famous lines of commentary slipped into an intro can help set the scene. Stromae's brilliant Ta fête, recorded to accompany the Belgian World Cup squad to Brazil in 2014, creates the atmosphere of the stadium by cleverly imitating the sound of air horns as the main line of musical attack.
This sort of sampling is rarer in pop these days because of the expense, but football records would be hard pressed to create a carnival atmosphere without them.
Collecting World Cup, Football or Sports tracks on Vinyl or CD? Explore the daily changing stocks here at eil.com
eil.com – the world's best online store for rare, collectable and out of print Vinyl Records, CDs & Music memorabilia since 1987