From the Guardian
An album of previously unheard original compositions by the legendary jazz saxophonist has been discovered, 55 years after its recording
A lost album of originals by John Coltrane, the American saxophonist who took jazz to new heights of freedom and expression, has been unearthed.
The album, being released on 29 June as Both Directions at Once: the Lost Album, was recorded in a session on 6 March 1963, at the Van Gelder studios in New Jersey. Joining Coltrane in the quartet that also recorded classic albums such as A Love Supreme, Coltrane, and Ballads, are Jimmy Garrisonon double bass, Elvin Jones on drums, and McCoy Tyner on piano.
The master tape left in the studio was lost, and it's likely it was destroyed in the early 70s when the label, Impulse!, was trying to reduce storage fees. But Coltrane gave his own reference tape of the recording to his wife Naima, despite their then disintegrating relationship – the pair divorced in 1966, and the tape has stayed in her family's possession ever since.
Sonny Rollins, a peer of Coltrane's and also regarded as one of the greatest jazz saxophonists of all time, described the discovery as "like finding a new room in the Great Pyramid".
Among the seven tracks are two completely unheard original compositions, called Untitled Original 11383 and Untitled Original 11386, both of which are played on soprano saxophone. Another composition, One Up, One Down, has been heard only in a live bootleg from the Birdland jazz club, and never before in this studio version.
.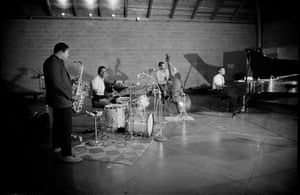 The 11386 recording similarly sees the quartet play in a traditional style, revisiting a melodic chorus theme between solos, and the album also features Coltrane's first, never before heard version of Nat King Cole's Nature Boy – unlike the freer 1965 version, the Both Directions at Once version is a straight three-minute take without solos.
Ben Ratliff, former New York Times jazz writer and author of Coltrane: the Story of a Sound, told the Guardian: "This is Coltrane's quartet starting to move into the last stages of their stable and authoritative phase, when they were often playing the same handful of songs. There's no concept or grand design here. But he's trying some new tunes, and playing a strange blues, and fine-tuning Impressions – and that's a lot."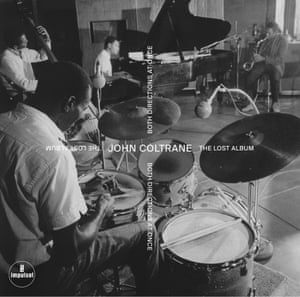 Both Directions at Once was recorded at an intensely fertile time for Coltrane and his quartet – as well as Ballads and Impressions, he also released a collaboration with Duke Ellington in 1963. The lost session was recorded during a two-week run of shows at Birdland – Coltrane played the club straight after the session – and the following day, 7 March, he recorded the album John Coltrane and Johnny Hartman with the jazz singer (its tracklisting changed on the way to the studio, after the pair heard Nat King Cole singing Lush Life on the radio and decided to include their own version).
Saxophonist Wayne Shorter, interviewed for the album's liner notes, says the title Both Directions at Once came from a compositional tip Coltrane gave to him: "about starting a sentence in the middle, and then going to the beginning and the end of it at the same time." The Guardian's jazz critic John Fordham finds another meaning: "Coltrane was looking back at bebop – the virtuosity and melodic resources of which he had stretched to breaking point – and the song-based lyricism of jazz he had recently explored with Duke Ellington, and was about to with Johnny Hartman. But he was also looking forward to imagining the more intense, mantra-like, spiritually-driven music that produced A Love Supreme in 1964."
Ratliff adds that "most of all, Both Directions at Once is a study in how seriously strong the band was, and how powerful his intent, or his concentration, had become."
Collecting rare and out of print John Coltrane Vinyl Records and CDs? See daily changing stock at eil.com
and subscribe to be alerted to new arrivals in our Jazz store
eil.com – the world's best online store for rare, collectable and out of print Vinyl Records, CDs & Music memorabilia since 1987