['Staring at the computer waiting for the music to appear felt futuristic' … Talvin Singh, right, in 1998. Photograph: Talvin Music]
'We were just sitting there with Björk when she got a call from Bono. Next thing I knew, we were supporting U2 at Wembley!'
I was raised in Leytonstone, in east London, by Sikh parents. My uncles would have Indian classical music soirees. There were always tabla around, but I also grew up with Top of the Pops. To me, it was all just music, but the Indian classical musicians back then were very judgmental – about everything from how I played tabla to how I looked.
My parents had wanted me to become a doctor or a lawyer, but I was coming home at 3am with armfuls of drums. I dyed my hair blue and went on tour with Siouxsie and the Banshees, then arranged the strings on Björk's album Debut. At my club night, I played Indian classical, tabla, jazz, hip-hop, electro and drum'n'bass. OK brought all of these sounds together.
Island Records let me get on with it and didn't hear OK until it was finished. I wanted it to sound like a journey, like classical music has movements. Island didn't even freak out when I told them the first single, Traveller, would be more than 11 minutes long.
I'd heard that when second world war pilots came back from missions alive, they were listed as "OK". The word felt universal. The album was played on Asian stations, urban stations and Radio 1. When it won the 1999 Mercury prize, I was ecstatic. It felt like the end of a struggle. My father was a hardworking TV repairman, but had never owned a car. So I used the £20,000 prize money to buy him a Mercedes.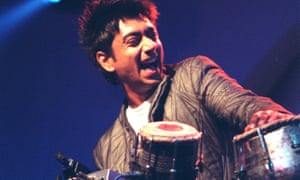 One day, Talvin called me to say Björk needed to put a live band together. The next thing I knew, the three of us were all sat there trying to figure out how to play her songs. Then, after one gig, she got a call from Bono and we all went off to support U2 at Wembley. That was our second gig!
Talvin has this inherent charm. He makes you want to drop what you're working on to be part of what he's doing. He was a huge fan of Sakamoto's Beauty album and Bill Laswell's experiments with Indian music. So he just rang them up and said: "Do you want to be on my record?"
In the 90s, whole genres were mixing and blurring. You'd get people like the Shamen, a psychedelic rock band who dropped ecstasy and turned into a dance act. On Sunday nights I'd hear Goldie playing drum'n'bass at Metalheadz. Then Mondays I'd go to Talvin's Anokha night at Hoxton's Blue Note and hear anything from Ravi Shankar to South Asian punk rock.
The two songs I was most involved in are the title track, which is like an Okinawan drinking song, and Vikram the Vampire, another of the quirkier numbers. I was racing around in my Mini Cooper trying to find the studio, and when I got there I realised I'd forgotten my keyboard, so I ended up playing everything from one button on my old sampler. There was no time to pretty anything up, but the panic helped. It gave things a unique energy.
It's an important record and I still love it. I was abroad when I heard Talvin had won the Mercury. I must have rung him up to congratulate him. Musicians didn't tweet each other in those days.
eil.com – the world's best online store for rare, collectable and out of print Vinyl Records, CDs & Music memorabilia since 1987