From the BBC:
Pop group Abba have returned to the studio to record their first new music since the 1980s.
The Swedish quartet said the new material was an "unexpected consequence" of their recent decision to put together a "virtual reality" tour.
"We all four felt that, after some 35 years, it could be fun to join forces again and go into the studio," the band said on Instagram.
"And it was like time stood still."
No release date has been set for the new songs – but one of them, titled I Still Have Faith In You, will be premiered in December on a TV special broadcast by the BBC and NBC.
Abba's spokesperson Gorel Hanser described the new songs, saying: "The sound will be familiar, but also modern."
The studio sessions were "like old times", she told Swedish newspaper Aftonbladet.
"Easy as anything. It didn't feel weird that they hadn't been in the studio together for 35 years."
But Hanser said the group would not perform live, other than as holograms in the forthcoming Abba Avatar tour.
"No, you can not expect them to join forces on stage again," she said. "They will not do that."
Formed in 1972, Abba were essentially a Swedish supergroup, consisting of songwriters Bjorn Ulvaeus and Benny Andersson from The Hep Stars and singers Agnetha Faltskog and Anni-Frid Lyngstad, who had scored success as solo artists.
But their joint project completely eclipsed their previous successes. After winning the Eurovision Song Contest with Wateloo in 1974, the band sold almost 400 million singles and albums around the world.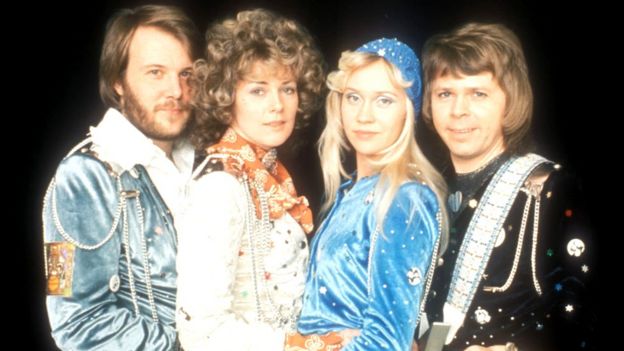 Mamma Mia!, the musical based on their hits and produced by Ulvaeus and Andersson, has been seen by more than 50 million people.
During their most successful period, the band survived marriage break-ups between Ulvaeus and Faltskog, and Lyngstad and Andersson, but they finally called it a day in 1983.
Their final recording sessions, in 1982, produced the hits Under Attack and The Day Before You Came, which featured on the compilation album The Singles.
Their last public performance came three years later, on the Swedish version of TV show This Is Your Life, which honoured their manager Stig Anderson.
ABBA have resisted pressure to reunite ever since, including a reported $1bn (£689m) offer for the band to tour in 2000.
Speaking to the BBC in 2013, Faltskog said she preferred to leave the band in the past.
"It was such a long time ago, and we are getting older, and we have our different lives," she explained.
Find rare and collectable Abba titles on eil.com, and if you have any items to sell, please call us on 01474815099
eil.com… the world's largest online retailer of rare and out of print vinyl, CDs and music memorabilia – since 1987