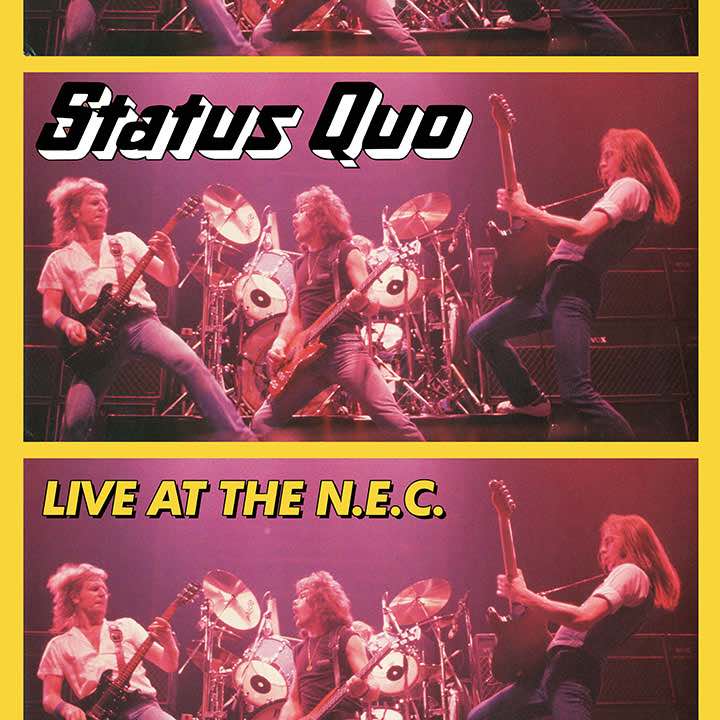 Famed 1982 Status Quo Show For CD, LP Revival
The celebrated show by Status Quo at the NEC Arena in Birmingham, England, which became one of the most talked-about gigs in their history, is to be released in its entirety for the first time. The new version will be out on Mercury/USM on 20 October.
The show took place on 14 May 1982, in aid of the Prince's Trust and in front of Prince Charles and other members of the royal family. It was originally released in two parts, with an album on Vertigo and a broadcast by the BBC. The two parts now come together in 3LP and 2CD formats.
Quo's performance that night came just after they had entered the UK charts at No. 1 with their studio album of the time, 1982, and had just been in the top ten with the single 'Dear John.' The set list featured hits such as 'Caroline,' 'Roll Over Lay Down' and 'Rockin' All Over The World' and many of their best-loved album tracks,. These included an epic, 23-minute version of 'Forty-Five Hundred Times,' the Francis Rossi-Rick Parfitt song that first appeared on Quo's sixth studio album Hello! in 1973.
With remastering for CD and vinyl by Andy Pearce, Live At The NEC will feature new liner notes by journalist Dave Ling, who has conducted new interviews with band members. The notes are part of a 28-page booklet full of memorabilia.
Track listings are as follows:
CD1:
Caroline
Roll Over Lay Down
Backwater
Little Lady
Don't Drive My Car
Whatever You Want
Hold You Back
Rockin' All Over The World
Over The Edge
Don't Waste My Time
Dirty Water
CD2:
Forty-Five Hundred Times
Big Fat Mama
Roadhouse Blues
Rain
Down Down
Bye Bye Johnny
LP1:
A1 Caroline
A2 Roll Over Lay Down
A3 Backwater
A4 Little Lady
B1 Don't Drive My Car
B2 Whatever You Want
B3 Hold You Back
LP2:
A1 Rockin' All Over The World
A2 Over The Edge
A3 Don't Waste My Time
A4 Dirty Water
B1 Forty-Five Hundred Times
LP3:
A1 Big Fat Mama
A2 Roadhouse Blues
B1 Rain
B2 Down Down
B3 Bye Bye Johnny
Have a look at what great Status Quo items we currently have in stock at eil.com here
Explore eil.com… the world's largest online retailer of rare and out of print vinyl, CDs and music memorabilia – since 1987.