Thirty years after topping the charts in Frankie Goes To Hollywood, Holly Johnson is back with a solo album. He talks to Craig McLean about gay rights, jet-set stunts and the Georges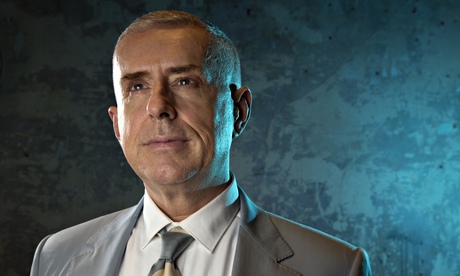 In the hushed galleries of the Royal Academy on London's Piccadilly, Holly Johnson – smartly shod and neatly jacketed, hands clasped behind back – is considering Dennis Hopper's photographs. The former frontman of Frankie Goes to Hollywood is an art lover – his titanic 80s fame allowed him to meet Andy Warhol twice, and, after studying for an MA at art school in the early noughties, he even had his own paintings exhibited at the RA in 2001.
"Ooh, Jane Fonda in Chanel." Johnson stops before Hopper's portrait of the actress on her wedding day in Las Vegas in 1965, when she marriedBarbarella director Roger Vadim. Further on he finds a portrait of Brian Jones. "I never really liked the Rolling Stones," the singer murmurs, in his almost theatrical Liverpudlian drawl. Growing up in Liverpool in the 60s, it was mandatory to follow the Beatles rather than those hairy southern johnnies.
As for Johnson, this particular pop star has been missing in action for a long time. Three decades ago, Frankie Goes to Hollywood were at the peak of their 80s pop powers: their first two singles, "Two Tribes" and "Relax", occupied the number one and two slots in the singles chart. This month Johnson released Europa, his first album in 15 years, and in October he tours this collection of electronic pop songs around the UK. The final show takes place the night before the 30th anniversary of the release of his former band's landmark debut album, Welcome to the Pleasuredome. Pure coincidence, insists Johnson. "You wouldn't believe how difficult it was for me to find an agent and promoter to take me on," he admits in typically straight-talking style
Read the full article here at The Guardian.
Find original Frankie Goes To Hollywood & Holly Johnson Vinyl & CDs here at eil.com