From Blabbermouth.
BLACK SABBATH's "Reunion" live album, which was originally released in October 1998, will be made available on vinyl for the first time on October 13 via Legacy Recordings.
This 3LP set on purple smoke vinyl captures the original band lineup of BLACK SABBATH live from their 1997 reunion tour, and features 16 live performances of their greatest hits remastered from the original source tapes, along with two remixed bonus tracks.
"Reunion" was the first new release featuring the original lineup of BLACK SABBATH — vocalist Ozzy Osbourne, guitarist Tony Iommi, bassist Geezer Butler and drummer Bill Ward — since 1978's "Never Say Die!" and Osbourne's subsequent firing the following year.
The live tracks on "Reunion" were recorded on December 4, 1997 and December 5, 1997 at the NEC in Birmingham., England. Along with live versions of classics such as "Paranoid", "N.I.B.", "Black Sabbath" and "Iron Man", the double album also included two newly recorded studio tracks: "Selling My Soul" and "Psycho Man". These two new songs, which were recorded in April-May 1998, were also released on a CD single in the United States. Music critics applauded the band's decision to surprise fans by including unexpected songs which had not been played live in many years, such as "Spiral Architect" and "Behind The Wall Of Sleep".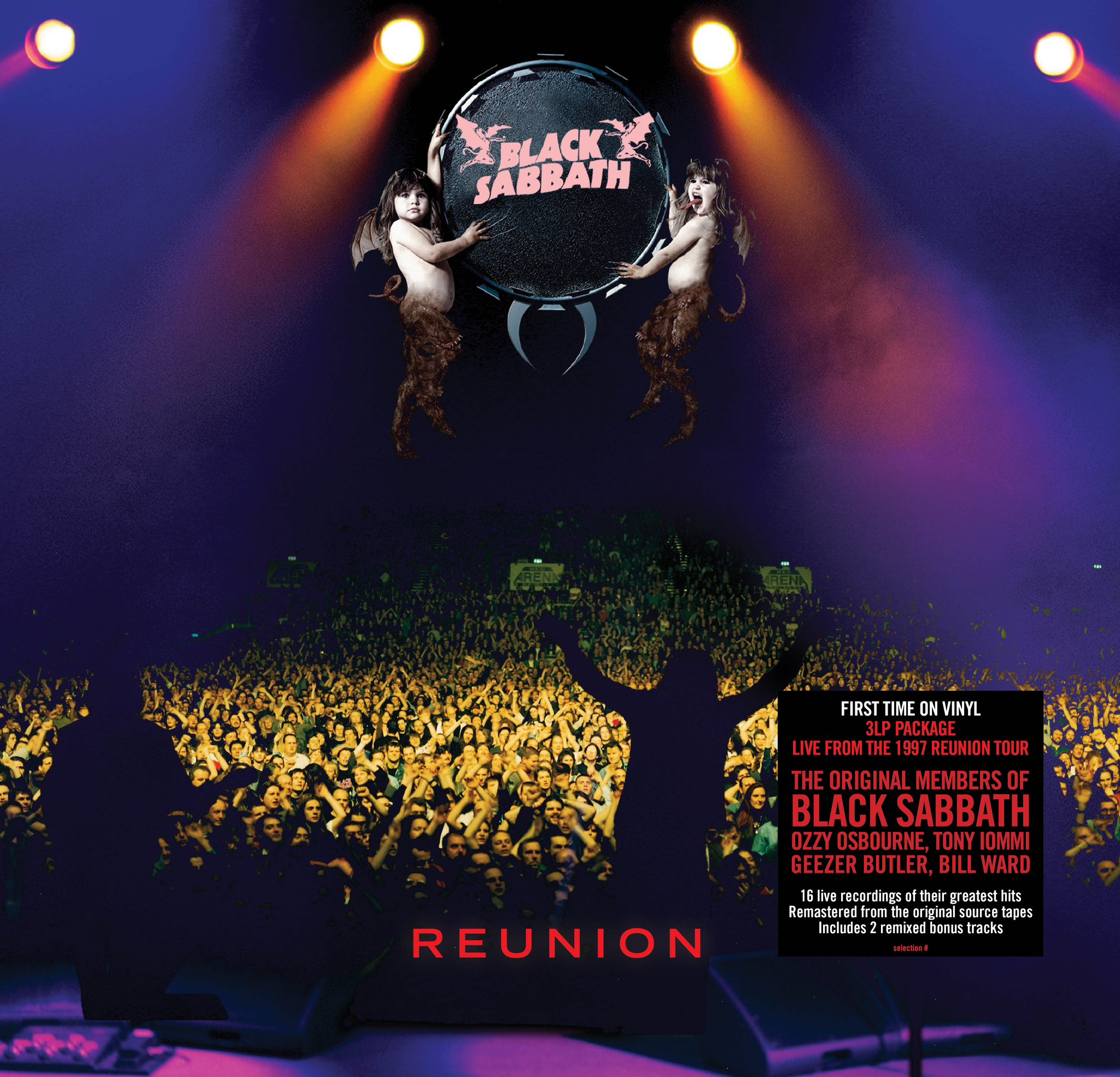 Track listing:
Side A
01. War Pigs
02. Behind The Wall of Sleep
03. N.I.B.
Side B
01. Fairies Wear Boots
02. Electric Funeral
03. Sweet Leaf
04. Spiral Architect
Side C
01. Into The Void
02. Snowblind
03. Sabbath Bloody Sabbath
Side D
01. Orchid/Lord of This World
02. Dirty Women
03. Black Sabbath
Side E
01. Iron Man
02. Children Of The Grave
03. Paranoid
Side F
01. Psycho Man
02. Selling My Soul
03. Psycho Man (Danny Saber Remix)
04. Selling My Soul (Danny Saber Remix)
BLACK SABBATH received its first ever Grammy Award in 2000 for the live recording of "Iron Man" from "Reunion".
In February 2017, SABBATH finished "The End" tour in Birmingham, closing out the quartet's groundbreaking 49-year career.
"The End" was SABBATH's last tour because Iommi — who was diagnosed with lymphoma in late 2011 — can no longer travel for extended amounts of time.
Iommi revealed his cancer diagnosis in early 2012, shortly after SABBATH announced a reunion tour and album. He underwent treatment throughout the recording of the disc, titled "13", and the subsequent tour to promote it.
The BLACK SABBATH guitarist successfully underwent an operation in January 2017 to remove a noncancerous lump from his throat.
"13" was the first album in 35 years to feature Iommi, singer Ozzy Osbourne and bassist Geezer Butler all playing together.
Ward was on board for the SABBATH reunion when it was first announced 11 years ago, but backed out soon after. The drummer later claimed that he sat out the recording and touring sessions because of unfair contractual terms, although the members of SABBATH have hinted in other interviews that he wasn't physically up to the task.
All four original members of SABBATH were present when the band announced its final reunion in late 2011. But Ward split from the group in 2012, citing an "unsignable" contract, and Osbourne, Iommi and Butler carried on with their Rick Rubin–produced "13" LP and extensive international touring without him.
Explore eil.com & 991.com sister – the world's best online store for rare, collectable & out of print Vinyl Records, CDs & Music memorabilia since 1987.