Text by Phil Ashdown.
In 1979 at aged just 30, Ozzy Osbourne was alone in a hotel room in West Hollywood, drunk, stoned and shut off from the world. For the 10-year roller coaster ride to fame as the lead singer in one of the biggest rock acts in the world was over and he thought he was finished. Depending on what article you read he had been sacked on April 27th on the grounds of being a drunk and a drug addict, from a band who were infamous for their alcohol and substance abuse.
The band's manager Don Arden booked him into the hotel to sort himself out and he numbed the pain in typical Ozzy fashion, booze, weed, cocaine and a string of one-night-stands while his wife and children were back home in England.
Don Arden's daughter Sharon visited Ozzy and was shocked at his condition and offered to manage him if he cleaned up his act.
This would bring about the resurrection of Ozzy's career in one of the most unlikely comebacks in rock history. It was Sharon and a brilliant young American guitarist, Randy Rhoads who become pivotal in rebuilding not only his career but his life as well.
While Ozzy attempted to clean himself up auditions took place in LA and among them was Randy Rhoads, a local guitarist who was classically trained and still lived with his mother. He was eight years Ozzy's junior and his polar opposite, quietly spoken and a rare drinker but the two just seemed to hit it off.
These auditions were held in secret because Randy was officially a member of Quiet Riot so rehearsals moved to the UK where Ozzy met Australian bassist Bob Daisley who had just been sacked from Rainbow.
The three of them started to write songs for an album and auditioning drummers with Rhoads and Daisley providing most of the music. Daisley claims that he also wrote "98 per cent of the lyrics" with Ozzy just contributing harmonies and the odd song title. The name of the album was one of those: the cocaine referencing pun Blizzard Of Ozz.
A suitable drummer, Lee Kerslake was soon settled into the band line-up and recording began on 22nd March 1980  at Ridge Farm Studios. The band would co-produce the album with Ridge Farm engineer Max Norman, recording in a converted barn that served as the main. The recording was completed between trips to the pub in just four weeks.
What the band unleashed was quite astonishing, a performance of such freshness and intensity that it re-defined his career completely. Ozzy himself, never one of the best vocalists, sounded reborn on Blizzard Of Ozz with truly superb performances from the entire band to back him up. It was heavy metal but unlike any Sabbath album, with the most exciting guitarist since Eddie Van Halen and helped develop a sound for the new decade. Most notably illustrated by lead single Crazy Train as Ozzy hollers 'All aboard' followed by a wicked laugh before a modern sounding hard rock anthem kicks in driven by a Rhoads riff and Ozzy playing up to his almost cartoon-like 'Paranoid' image superbly.
The album was packed with great songs from hard-hitting opener I Don't Know crashing in with a gong and crunching riff. Mr Crowley starting off with a synthesizer intro, telling the story of famed occultist Aleister Crowley, with a not one but two equally wonderful Randy Rhoads solos that leaves Eddie Van Halen in the dust. The song fades away with him still playing so we'll never know how long he continues shredding! There's even a 'power ballad' that Ozzy handles pretty well. In 'Revelation (Mother Earth), a slow building plea to the dying planet Ozzy delivers a fine performance with the diminuative guitarist again the real revelation, unleashing riff after riff with some fine acoustic guitar along the way, making this a real album highlight.
The song "Suicide Solution" has met with its share of controversy over the years, most notably the October 1984 suicide of John McCollum, a depressed teenager who shot himself in the head allegedly after listening to the song. The parents sued Ozzy and CBS records and during his defence Ozzy stated that the lyrics 2Wine Is Fine but whiskey's quicker" came to him after the death of his friend Bon Scott the lead singer of AC/DC and were not about suicide.
Album Tracklist
I don't know
Crazy train
Goodbye to romance
Dee
Suicide solution
Mr Crowley
No bone movies
Revelation (Mother Earth)
Steal away (the night)
Line-up
Ozzy Osbourne – vocals
Randy Rhoads – electric and classical guitars
Bob Daisley – bass, backing vocals, gongs
Lee Kerslake – drums, percussion, tubular bells, timpani
Don Airey – keyboards
The album was released on 20 September 1980 in the UK but had to wait until the following year for a US release. It made the Top 10 and was accompanied by a sell-out tour – proof indeed that Ozzy was not, as he had feared, finished!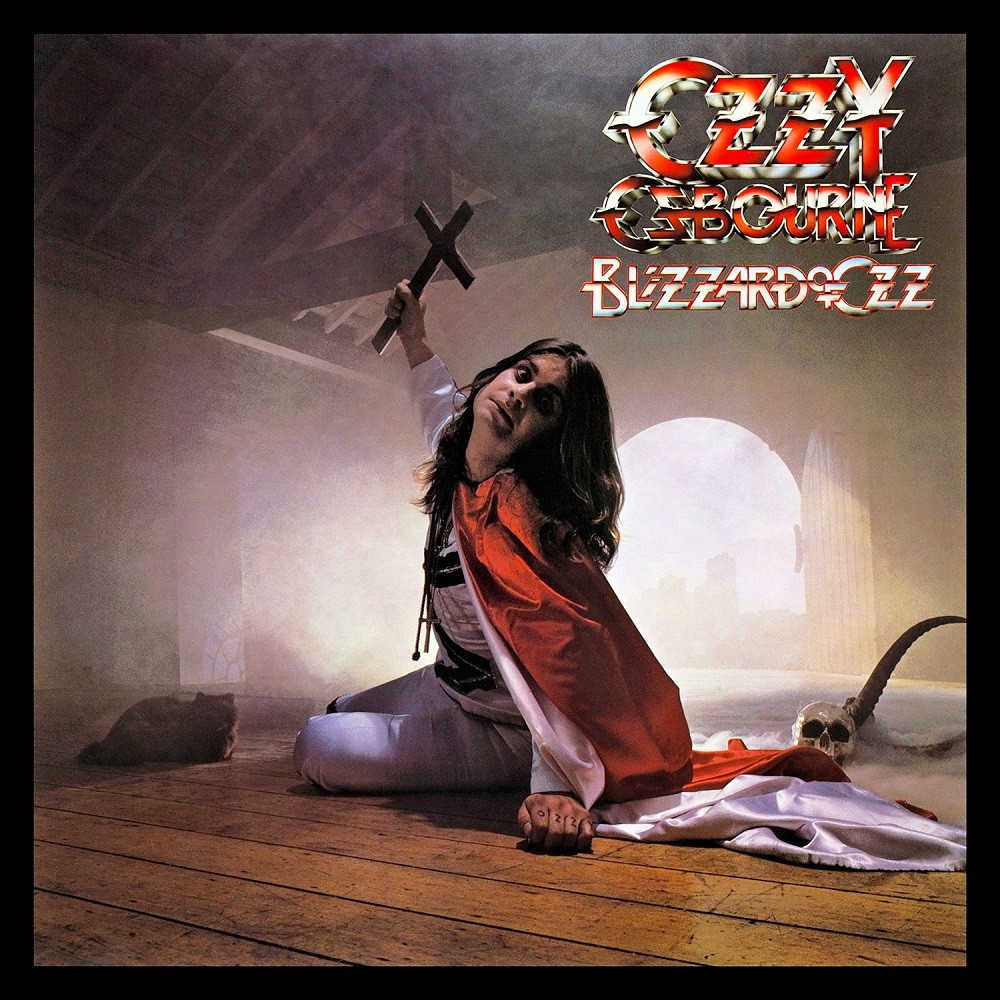 Blizzard Of Ozz's cover artwork perfectly introduced the revitalised Osbourne: the crucifix he wields is a nod to his former band's occultist leanings, though the pantomime cape and wild-eyed stare are outrageously cartoonish, puncturing any Devil-worshipping image he may once have cultivated. A knowingly placed cat seemed to suggest that Ozzy was just a big kitten after all…
After a couple of secret warm up gigs billed as 'The Law' the tour started at Glasgow Apollo on 12 September with Welsh rockers Budgie in support. It ran for 35-dates including three at London's legendary Hammersmith Odeon. The set list contained most of the new album along with three Black Sabbath classics, Iron Man, Children Of The Grave and encore Paranoid.
Explore eil.com & 991.com sister – the world's best online store for rare, collectable & out of print Vinyl Records, CDs & Music memorabilia since 1987.