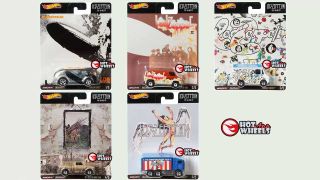 (Image credit: Hot Wheels)
Led Zeppelin's iconic albums are being celebrated with the release of a series of Hot Wheels die-cast toy vans adorned with the band's artwork.
The five-vehicle collection is described by the manufacturers as a "New Hot Wheels Premium series for 2020, in commemoration of the British hard rock group Led Zeppelin."
They continue: "This collection includes five different models, which present images of the covers of some of their albums, among which we can find Led Zeppelin (1969), Led Zeppelin II (1969), Led Zeppelin III (1970) and Led Zeppelin IV (1971)."
A fifth toy, the "Hiway Hauler", is a miniature truck covered in art that celebrates Led Zeppelin's North American tour of 1975.
A dramatic video featuring the five vans being unboxed has been released by the YouTube channel Wheelcollectors, which calls the release "hot off the truck".
Explore eil.com & 991.com sister – the world's best online store for rare, collectable & out of print Vinyl Records, CDs & Music memorabilia since 1987.