[Interview by Dave Simpson at
The Guardian
]
'Everything we'd learned in the studio went into the recording. It would take 26 people to re-create the song live'
Trevor Horn, singer-songwriter, bass, guitar, percussion, producer
I was playing bass in a cabaret band and built my own studio. Leicester City came in to make their 1974 FA Cup final single. I realised that the players couldn't sing for toffee, so I brought some session singers in. Unfortunately, the week after it came out they got knocked out by an own goal, but I'd realised I wanted to become a producer.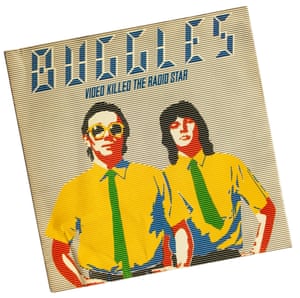 I was going out with the singer Tina Charles and studied the backing track to her hit I Love to Love (But My Baby Loves to Dance) for production tips. I put together a touring band for her. Geoff Downes was the 14th keyboard player I auditioned. A friend recommended Bruce Woolley as the guitarist, and we all clicked. I'd written a lyric and Bruce came up with a tune to it. Two songs later we wrote Video Killed the Radio Star. When Bruce got a solo deal and left, Geoff and I became Buggles.
Everything we'd learned in studios went into the recording. I once worked out it would take 26 people to re-create the single live. Geoff suggested putting my voice through a radio speaker. We had the line "I heard you on the wireless back in '52" for ages before I came up with "Lying awake intent at tuning into you". Aged three or four, I used to lie in bed listening to Radio Luxembourg. When you're half asleep, it's like being stoned: I'd totally zone in.
I wrote most of the other lyrics, such as "They took the credit for your second symphony, rewritten by machine on new technology." I'd read JG Ballard and had this vision of the future where record companies would have computers in the basement and manufacture artists. I'd heard Kraftwerk's The Man-Machine and video was coming. You could feel things changing.
Video Killed the Radio Star was the first pop video played on MTV. I mean, they would, wouldn't they?
Geoff Downes, songwriter, keyboards, percussion, producer
I turned up to the audition with a Minimoog synthesiser. I'd been writing advertising jingles up to that point. I don't know if that's why Trevor hired me. He says he liked my shoes. Trevor and Bruce had already written the bulk of Video Killed the Radio Star when I joined, I worked on the final version.
We were northern boys trying to break into the music scene, but were initially rejected by all the record companies. By chance, my girlfriend worked for Island Records and got them to hear our demo, and suddenly they wanted to sign us as producers, artists and writers. We went from nothing to this terrific deal.
Tina Charles sang on the original demo of Video Killed the Radio Star, made in my flat in Wimbledon Park, but when we got the record deal we had to rerecord it and change the arrangement. I wrote a different intro and middle eight, and we extended the verses. We stayed up for nights experimenting with different sounds. We wanted to cram as many ideas as we could into a pop song. My jingles career helped because you have to get everything across quickly. Bruce tried to stop our version of Video and released his more straightforward version [as Bruce Woolley & the Camera Club] before ours, but it wasn't a hit. Ours is a more complex, modern-sounding pop song.
• The live show A Trevor Horn Production is at the Queen Elizabeth Hall, London, on 2 November. Geoff Downes plays in Yes.
See our latest Buggles & Trevor Horn items in stock below (updates automatically when new stock is added)
eil.com – the world's best online store for rare, collectable and out of print Vinyl Records, CDs & Music memorabilia since 1987