Compact discs don't have the romance of vinyl – but as a generation of tastemakers reconnect with their youth, that could be about to change
A substantial CD collection was once the mark of the true muso, with the format hailed for its superior sound quality and , of course, compactness. But many collections now sit gathering dust since the ascent of streaming, which accounts for 38% of the total global revenues for recorded music – surpassing physical formats for the first time last year.
High-street shops such as the hipster haven Urban Outfitters have made vinyl and cassettes available to a younger demographic, and the popularity of the annual Record Store Day shows that vinyl has had a full-scale revival. But while CDs make up only 30% of the total global market for recorded music, 42% of the UK population still choose CDs as their preferred format, according to a YouGov report. Of this 42%, two-thirds said they would probably still be listening to them in five years.
While CDs are often maligned for their rigid packaging, some also see this as an attractive feature. Stephen Thomas Erlewine, the senior editor at AllMusic, says: "I want to have the liner notes around. I've found that CD liner notes, especially for reissues in the 90s and beyond, can be the only detailed writing available for certain artists, scenes, eras and labels."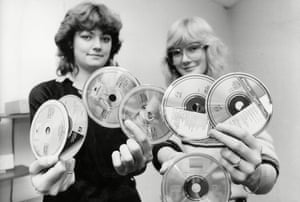 Secondhand CDs are proving just as popular: it is the fastest-growing sales format on the music marketplace Discogs, chalking up 28% growth last year. The company's discography specialist, Brent Greissle, says: "As someone who is always looking for new music, the overall lack of attention being paid to CDs means I can generally find a lot more of what I like without having to pay a premium."
Though secondhand CD are an increasingly popular alternative to vinyl, their relative affordability also serves as a sign of their decline. Richard Farnell, the co-owner of Vinyl Exchange, a record shop in Manchester, says: "We still sell a lot of CDs but at much cheaper prices than five to 10 years ago. There is no evidence of a CD revival – the majority of newly opened record shops generally don't even stock CDs."
These shops sell vinyl instead – to DJs, to those who want to fulfil a nostalgic need, and to younger patrons trying to bolster their retro cache. None of these roles is currently filled by CDs. "CDs lack both the romance of vinyl and the endearing clunkiness of cassettes," says Rebecca Tuhus-Dubrow, author of Personal Stereo. "They may not be as conducive to nostalgia because we may not have had the chance to miss them as much. By the same token, we may not associate them strongly with any particular bygone era."
But that could be starting to change. "Generation Z is getting into the nostalgia zone," Greissle says. "It's likely that people will start reconnecting with their youth and buying the music they loved in the formats they originally owned them on. I've even seen some evidence of people reconnecting with this era by buying reconditioned first-gen iPods."
Like so many others, the hipster is at the helm of these revivals. "Something that was once the dominant format fades from the zeitgeist, before someone of a hip-inclined nature rediscovers it to differentiate themselves from the rest of the crowd," Greissle says. "To be honest, I always assumed CDs were hipster kryptonite, but this could be changing. Time will tell."
eil.com is the world's best online store for rare, collectable and out of print Vinyl Records, CDs & Music memorabilia since 1987 – new CDs arrive hourly!