From Mark Brown at The Guardian
Limited edition book costing £3,000 will feature
He may have been on arguably the most important and transformative tour of his life but David Bowie is strikingly, almost beatifically relaxed, in a set of previously unpublished photographs.
"He was very, very happy," said the photographer Denis O'Regan, recalling the nine months he shadowed Bowie.
"Bowie started playing to venues of 10,000, moved to 50-60,000 and he became a superstar. He really enjoyed playing to that many people. Everything went right for him, the reviews were incredible, the album was a huge success and he was a very happy man."
The photographs all come from Bowie's 1983 Serious Moonlight tour for his album Let's Dance.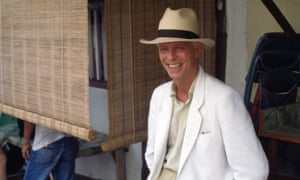 He played nearly 100 gigs in 15 countries, beginning in Brussels and ending in Hong Kong on 8 December. At the time it was the longest and most successful tour of his career.
At his side almost the whole time was O'Regan, the official tour photographer and a devoted fan.
O'Regan recalled telling Bowie that it was seeing the Ziggy Stardust concert at the Hammersmith Odeon in 1973 that inspired him to take up rock photography.
"Being David, he wasn't very good at taking compliments. I said: 'It's because of you that I became a rock photographer.' He said: 'Yeah, you'll probably tell Bono the same thing tomorrow night.'"
The photographs are to be published in May 2018 in a limited edition book accompanied by volumes of memorabilia including handwritten lyrics, tickets, set lists, three large limited edition prints and a 12-inch picture disc of Ricochet and Let's Dance remastered by Nile Rodgers. The publisher, Moonlight Books, describes it as a "museum-quality collectible".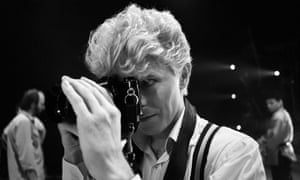 Two thousand editions, each weighing 15 kilos and costing £3,000, are being published. Moonlight and Penguin Random House is also producing a smaller book of the photographs in Autumn 2018.
O'Regan said it had been his dream to publish the photographs in large, landscape format one day, and that it was a project Bowie had backed and was involved in.
Bowie was meant to have signed the book before his his unexpected death in January last year.
The two men had been through almost 20,000 photographs taken on the tour, deciding which ones to use and which to discard.
"Obviously I knew which pictures David liked, which ones he had approved. I knew where I wanted to take the book and probably where he wanted to take it," O'Regan said.
"I think he was swept up in it. Everything was new to him, the stadiums were new, this sort of adulation was new, so he enjoyed every moment of it. Afterwards he thought: 'I need to do something different,' which of course he did."
O'Regan has toured the world as an official photographer to bands including the Rolling Stones, Pink Floyd and Duran Duran. He was also the official photographer for Live Aid. He says he was known as Doris by Freddie Mercury, Reg by Duran Duran and Scoop by Bob Geldof.
Collecting David Bowie rare Vinyl, CDs or Memorabilia? Explore the daily changing stock here at eil.com
eil.com – the world's best online store for rare, collectable and out of print Vinyl Records, CDs & Music memorabilia since 1987