Nearly 40 years ago, Orchestral Manoeuvres in the Dark started out as an attempt to capture the sound of the future.
As the rest of the UK pogo'd to punk and danced to Boney M, Andy McCluskey and Paul Humphreys were pulling components out of old radios to see what kind of sounds they could make in their parents' back rooms.
By 1980, Smash Hits was calling them "the acceptable face of synthesizers"; a British variant on Kraftwerk's cerebral machine music.
"We were fascinated by weird German music and writing songs about oil refineries," laughs McCluskey, "so nobody was more surprised than us that we got asked to make records, and then that we sold millions of records".
Thanks to songs like Enola Gay, Souvenir and Joan Of Arc, they clocked up six top 10 albums and made 29 appearances on Top of the Pops. For McCluskey, the tedium of taping the TV show was alleviated by the chance encounters he'd make at BBC Television Centre.
"The studios all had the same little cafe, so if you were fortunate, you'd end up having a cup of tea with some cybermen."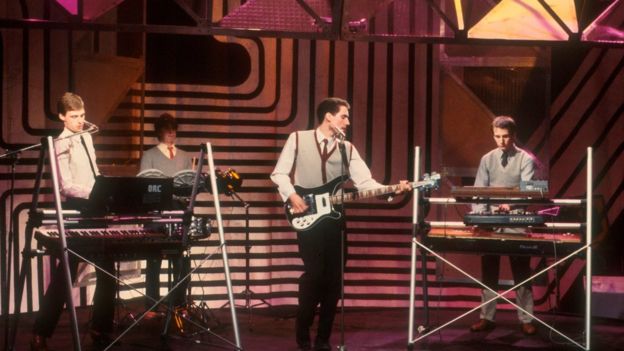 But given the band's enthusiasm for all things hi-tech and sci-fi (McCluskey's pre-fame band was even called Dalek, I Love You), they've always been suspicious of our automated overlords, and it's a theme that persists on their latest album, The Punishment of Luxury.
The title track is a scathing indictment of consumer culture; while Precision and Decay comments on the mechanisation of the manufacturing industry, and how factory closures can decimate communities.
Those motifs are common to several of 2017's biggest albums, including Arcade Fire's Everything Now and Gorillaz' Humanz – and McCluskey says they should be obvious to anyone who's got "their brain switched on".
"For the most part, people are better off than we've ever been before and yet we find ourselves more stressed, anxious and unhappy – so why is that?" he asks.
"In generations gone by, 'living in the now' was a simple case of constantly working for 24 hours a day to put food on the table and keep the roof over your head; while keeping your fingers crossed that there wasn't going to be war and pestilence.
"Now you don't have to work that hard for your food and your house, so you've got time for your brain to start worrying.
"As many counsellors and psychotherapists have pointed out, the most fearful place to be is in your own head. It's not good."
Read the rest of the article here
Collecting OMD? Got the latest album "The Punishment Of Luxury" pressed on YELLOW VINYL? We have that in stock for immediate despatch, along with many more collectables by OMD here at eil.com
eil.com – the world's best online store for rare, collectable and out of print Vinyl Records, CDs & Music memorabilia since 1987