From Metal Hammer.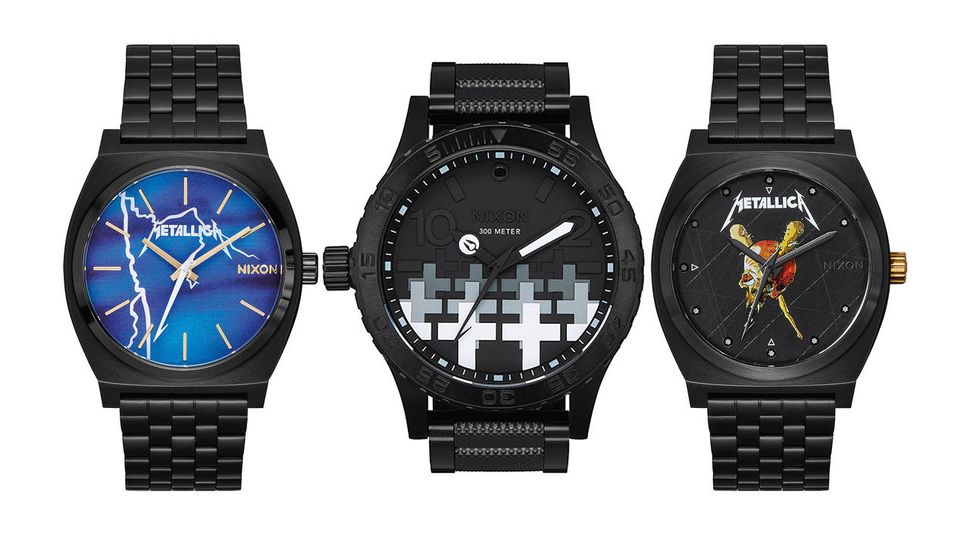 Metallica have announced a new range of watches, including $500 Master Of Puppets and limited edition $750 'Sanitarium' models.
The band have teamed up with high-end watchmakers Nixon for the Nixon x Metallica range, featuring nine watches based on Metallica songs and albums ranging from a reasonable $125 to a wallet-emptying $750.
In a statement on their website, Metallica say: "Nixon began in the '90s in Southern California with the goal of 'making stuff a little better' with a line of custom-built watches, have grown to become one of the premiere lifestyle watch companies.
"They are the perfect partner for us… independent and unique, with a focus on creativity and quality, and we've been looking forward to  working with them again since our first experience back in 2010 when we  teamed up for a series of limited edition rocker watches using old  guitar straps and leather jackets from various 'Tallica members to  create watch bands."
As well as Master Of Puppets and Welcome (Sanitarium) models, the range includes watches based on …And Justice For All, Ride The Lightning, Kill 'Em All, the Black album and Hardwired… To Self Destruct. Another features artwork by longtime collaborator Pushead, while the Seek & Destroy model features bullets instead of numbers and a Flying V second hand.
Check out the full range below:
Time Teller "Ride the Lightning" ($125)
Time Teller "Kill 'Em All" ($125)
Time Teller Pushead ($125)
Time Teller "Hardwired" ($125)
Sentry Leather "Seek & Destroy" ($200)
Sentry Leather "Black Album" ($250)
Corporal SS "…And Justice for All" ($250)
51-30 "Master of Puppets" $500 USD
51-30 Tide LTD "Sanitarium" ($750)
Metallica are currently on tour in the US, though they threaten further horological collaborations next year: "This is just the beginning, as we have more ideas with our partners at Nixon for 2019."
Also from Metal Hammer.
Metallica are launching their own whiskey this week.
The band has teamed up with distiller Dave Pickerell to launch Blackened, a blended whiskey named after the opening track from 1988's …And Justice For All album.
According to the band, the whiskey is "housed in black brandy barrels and inundated with low hertz sound waves so intense that it actually enhances the molecular interaction and ultimately the finish of the whiskey."
Continue the band: "We are fortunate to have a long-time collaboration with Meyer Sound, who have engineered a proprietary subwoofer that amplifies the low frequency sound waves and all the planets aligned. It just so happens that the low-frequency range needed for Dave's vision was the range you hear in our music and the process of sonic-enhancement we call "Black Noise" was born. A patent-pending process, the playlists that we create helps to shape the flavor of the whiskey."
Each batch of bottles comes with an accompanying Spotify/Apple Music playlist.

Be sure to check out the our Metallica titles on eil.com, and if you have any items to sell, please call us on 01474 815099
eil.com – the world's best online store for rare, collectable and out of print Vinyl Records, CDs & Music memorabilia since 1987