From the Associated Press & The Guardian
George Avakian, a Russian-born jazz scholar and architect of the American music industry who produced essential recordings by Louis Armstrong, Miles Davis and other stars has died. He was 98.
Avakian's daughter, Anahid Avakian Gregg, confirmed that her father died on Wednesday morning at his home in Manhattan. No further details were immediate available.
An executive at Columbia Records and Warner Bros among other labels, Avakian helped popularise such consumer standards as liner notes, the long-playing album and the live album.
Few could claim as many milestones as Avakian, who started out as an Ivy League prodigy rediscovering old jazz recordings and became a monumental industry figure and founder of the National Academy of Recording Arts and Sciences, presenters of the Grammys. Through the artists he promoted and the breakthroughs he championed, Avakian helped shape the music we listen to and the way we listen to it.
"The innovations Avakian brought or helped bring to the recording industry are so fundamental and taken for granted today that most people under the age of 70 would find it hard to imagine there was ever a time when they didn't exist," DownBeat magazine declared in presenting Avakian a lifetime achievement award in 2000.
His contributions date back to the late 1930s, when he was an undergraduate at Yale and a jazz fan frustrated by the limited availability of his favourite music. He wrote to numerous companies and finally convinced Decca to let him compile Chicago Jazz, widely regarded as the first jazz album and among the first jazz records to include liner notes, written by Avakian.
"Decca said in essence, 'We don't know quite what jazz in those cities is about but you seem to know so why don't you go ahead and produce them,"' Avakian told JazzWax in 2010.
Avakian was soon working on new and old music, documenting and making history, and jazz's stature was changing from popular entertainment to art. He prepared a series of reissues at Columbia that featured recordings by Armstrong, Ellington and Bessie Smith and helped launch the inclusion of alternate takes of individual songs.
He produced the classic Louis Armstrong Plays WC Handy and one of Dave Brubeck's most popular albums, Dave Digs Disney. He also signed up Davis for Columbia and co-produced Miles Ahead, the 1957 album that began Davis' collaborations with arranger Gil Evans and established him as among the first jazz superstars of the post-second world war era.
"I saw him as the best trumpet ballad player since Louis Armstrong," Avakian told the Wall Street Journal in 2005.
The music business was rapidly changing in the 1940s and 50s, thanks in part to Avakian. Columbia was the industry leader in issuing classical recordings as albums and Avakian, as head of Columbia's pop division, oversaw the landmark 1948 release of 100 long-playing records for pop and jazz. Featuring Frank Sinatra, Dinah Shore and other artists, they were pressed on vinyl that was thinner than the traditional 78 rpm "shellac" records and played at what became the standard speed, 33 1-3 rpm.
In the 1950s, Avakian supervised two historic live recordings: Benny Goodman Live at Carnegie Hall 1938 and Ellington at Newport. The Goodman concert, released in 1950, was among jazz's first double albums, first live albums and first to sell a million copies. Ellington at Newport, featuring a sensational 27-chorus solo by tenor saxophone player Paul Gonsalves on Diminuendo and Crescendo in Blue, captured the 1956 performances that revived the middle-aged Ellington's career.
Avakian's other achievements ranged from producing Bob Newhart's Grammy-winning debut The Button-Down Mind of Bob Newhart and Sonny Rollins' comeback album The Bridge to managing Keith Jarrett and teaching, at Columbia University, one of the first courses on jazz.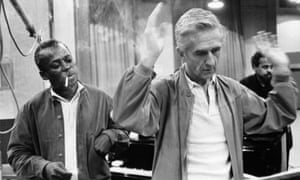 In 1958, he was among the founders of the recording academy, which in 2009 presented him a Trustees Award for lifetime achievement. His other honors included an advocacy award from the National Endowment for the Arts, a Commandeur des Arts et Lettres from France and the Soviet Union's highest honor, the Order of Lenin.
Avakian, essentially retired from the music industry since the 1970s, was a breeder of race horses in recent years, notably the champion pacer President Ball. He was married to the violinist Anahid Ajemian, with whom he had three children. She died in June 2016, at age 92.
He was born in 1919 in the Russian city of Armavir, the child of wealthy Armenians who fled from the civil war that followed the 1917 revolution. Once settled with his family in New York, Avakian fell in love with jazz listening to the radio, on low volume, so his parents wouldn't know he was still awake. When he entered Yale, jazz was still a relatively new and popular genre and few sensed it had lasting value.
Avakian was barely out of his teens when he met Armstrong. While at Yale, he helped unearth tracks from Armstrong's foundational Hot Five and Hot Seven sessions from the 1920s. After serving in the infantry during the second world war, based in the Philippines, he was hired by Columbia and was soon back in touch with Armstrong.
"Louis remains the artist I most admired and most enjoyed recording, by a distinct though relatively narrow margin," Avakian told JazzTimes in 2000, "narrow because it was also an enormous pleasure working with Duke Ellington, Miles Davis, Mahalia Jackson, Erroll Garner, Sonny Rollins, Dave Brubeck and a host of others who were not just great artists, but among the best friends I have ever had."
eil.com – the world's best online store for rare, collectable and out of print Vinyl Records, CDs & Music memorabilia since 1987